Zhejiang University scholars release 2 superconducting quantum chips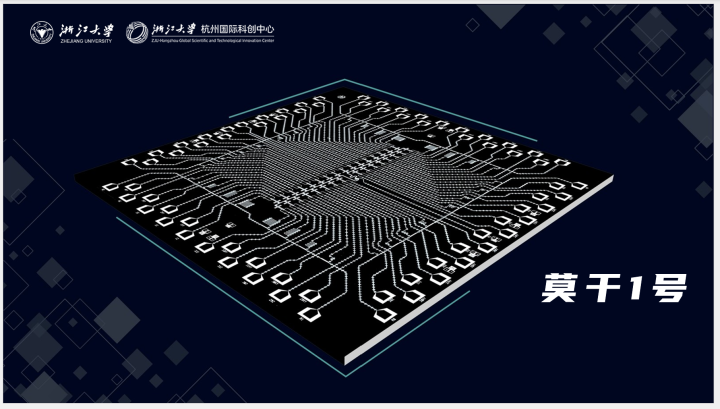 The Mogan-1 chip. [Photo/zj.zjol.com.cn]
A research team from Zhejiang University released the Mogan-1 and Tianmu-1 superconducting quantum chips on Dec 17, marking a new milestone in the development of Zhejiang province's quantum technologies.
Mogan-1, a special quantum chip with a fully connected architecture, can be used for quantum simulation and the precise regulation of quantum states for specific problems. The research team has used the chip to investigate the Stark multibody localization in quantum multibody physics, and the research results have been published in leading physics journal Physical Review Letters.
Tianmu-1 chip, which was designed for general-purpose quantum computing, has an easily scalable nearest-neighbor connectivity architecture. To perform relatively complex quantum gate circuit algorithms, researchers have integrated 36 superconducting quantum bits with longer bit lifetime into the Tianmu-1 chip.
Compared with the Mogan-1, the Tianmu-1 has higher programming flexibility that can perform various quantum algorithms and hence can be applied to more research fields.
The research team has a full-stack R&D ability that encompasses the design, preparation, packaging, measurement, and control of superconducting quantum chips. The team has also built a highly advanced integrated quantum measurement and control platform which can be used for a variety of complex quantum experiments.