Beauty industry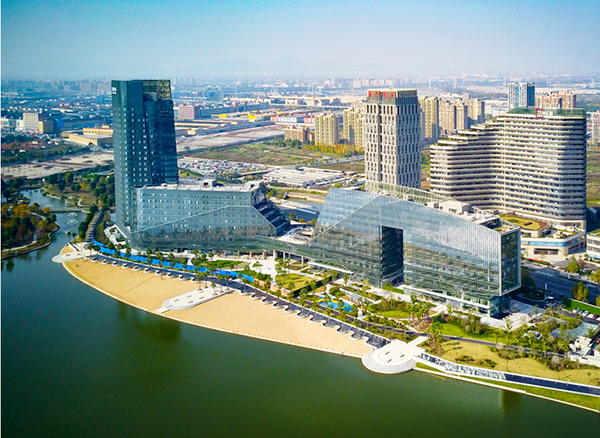 The industrial park for the beauty economy in Qiantang district, Hangzhou, Zhejiang province. [Photo/zjol.com.cn]
The beauty economy in Qiantang district, Hangzhou, East China's Zhejiang province, mainly refers to the fashion industry represented by clothing, food, home decoration, cosmetics, and lifestyles.
In recent years, Qiantang has seen robust growth in its beauty industry, with the total number of above-designated-size manufacturers (those with annual operating revenues of roughly $3.1 million or more) amounting to 43 and generating a total of 100.7 billion yuan ($15.85 billion) in sales revenue from January to November 2021, up 12.6 percent year-on-year.
Qiantang plans to introduce 30 beauty industry projects with a total value of 10 billion within the next three years.
The district's confidence in the beauty industry was bolstered by its talent reserves, as it is home to the largest higher education zone in Zhejiang province with 14 colleges and universities.
Many of the "beauty" companies were set up by these college graduates. For example, Mainto Group, which was founded by two graduates of the Communication University of Zhejiang, has seized upon young people's pursuit of beautiful document photos, developed the related brand Himo, and promoted it across the country.
Qiantang district has also collaborated with the Communication University of Zhejiang and China Jiliang University to develop alumni industrial parks. A total of 150 projects developed by graduates from the two schools were attracted to Qiantang in 2021.