RCEP brings sound benefits to Zhejiang enterprises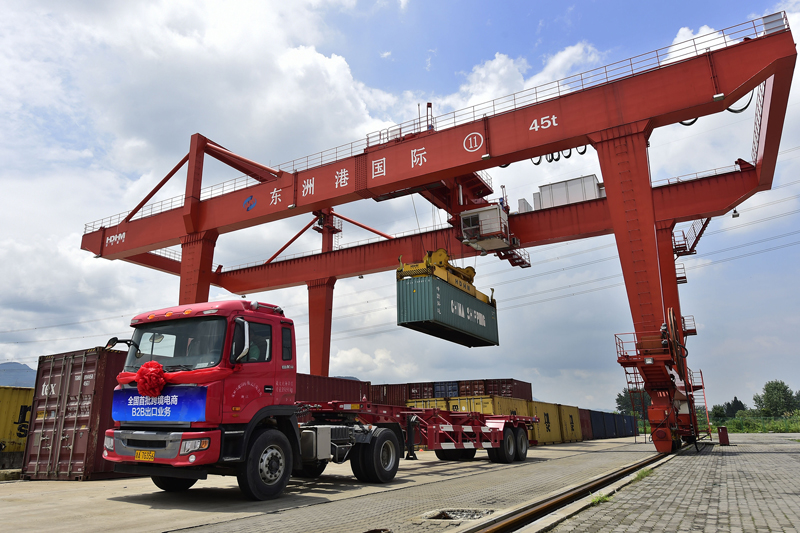 A container containing exported goods is prepped in Hangzhou. [Photo/CFP]
With the implementation of the Regional Comprehensive Economic Partnership (RCEP) on Jan 1, 2022, numerous development opportunities await foreign trade enterprises in East China's Zhejiang province.
As the RCEP promotes regional and multilateral trade integration by lowering trade barriers through tariff and non-tariff measures, the agreement is expected to see more than 90 percent of traded goods within the region be subjected to zero tariffs.
Just two days after the implementation of the RCEP, the Hangzhou Customs issued 45 certificates of origin to 22 enterprises. The goods from these enterprises, which were mainly metal products, seafood, flowers, textiles and clothing, were worth 19.03 million yuan ($2.99 million) and were set for Japan and Australia. These enterprises are expected to enjoy about 570,000 yuan in tariff reductions.
Zhejiang province has had a stable relationship with RCEP member countries. Statistics show that from January to November 2021, the total trade value between the province and RCEP member countries grew 19.4 percent year-on-year to 948.61 billion yuan, accounting for 25.2 percent of Zhejiang's total foreign trade value.
Zhejiang's exports to RCEP member countries are mainly electromechanical, labor-intensive products, and high-tech products, while its imports from RCEP member countries are mainly resource products.