Overseas Chinese in New Zealand celebrate 2022 Hangzhou Asian Games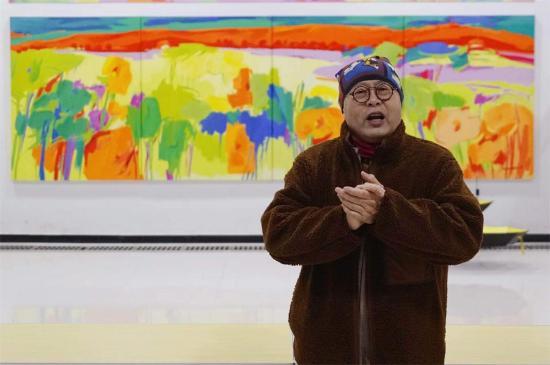 Sean Chen stands in front of a painting he made for the 19th Asian Games Hangzhou 2022. [Photo/hangzhou.com.cn]
A group of Chinese and overseas Chinese living in New Zealand visited the Hangzhou Olympic Sports Center on Jan 9 as the 19th Asian Games Hangzhou 2022 appraoch.
Sean Chen, an overseas Chinese artist , gave a brief introduction to the wall paintings he created for the sporting event.
Chen said that the wall paintings, which revolve around colorful lotus leaves, follow the color system of the Games so as to echo the emblem, mascots, sports pictograms and other visuals related to the major event, and also show off Hangzhou's image as a green and natural city.
Meanwhile, the lotus leaves are contoured by a map of Asian countries.
"The 2022 Hangzhou Asian Games is a global sporting event and I felt honored to have the opportunity to create works related to the Games," Chen said.
Kevin He, a representative of overseas Chinese in New Zealand, said they will work together to tell Chinese stories overseas so as to contribute to the 2022 Hangzhou Asian Games.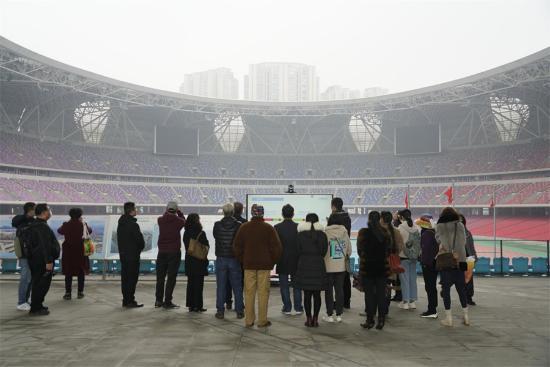 A group of Chinese and overseas Chinese living in New Zealand visit the Hangzhou Olympic Sports Center on Jan 9. [Photo/hangzhou.com.cn]