Workers go the extra mile to ensure scheduled completion of Asian Games e-sports center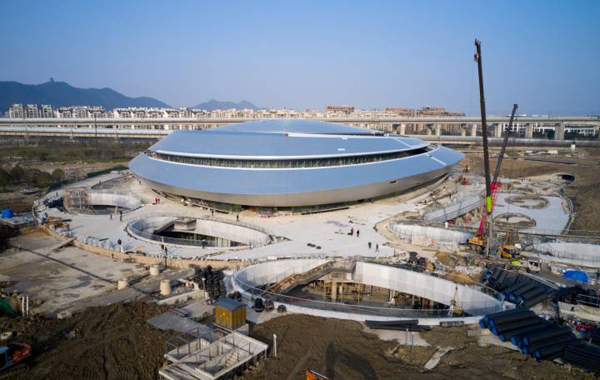 The China Hangzhou Esports Centre. [Photo/zjol.com.cn]
The construction of the China Hangzhou Esports Centre will continue through the upcoming Spring Festival holiday period, with about 300 workers staying put in the city to ensure the facility is completed as scheduled.
Featuring a futuristic façade and spanning 80,000 square meters, the 4,500-seater venue will become the first and largest professional e-sports center in China upon completion. Medals for eight e-sports competitions at the 19th Asian Games will take place at the center.
"Our workers start their day at 7 am and finish at about 5 pm. Every night, more than 60 people work overtime in shifts to ensure the project will be completed on time," said Wang Xiaolin, head of the decoration team of the e-sports center.
Wang said that this would be the first time in his 30 years in the industry that he is not traveling back to his hometown to spend the Spring Festival. Instead, his family will travel to Hangzhou to celebrate the Lunar New Year with him.
"It is my honor to be a part of the construction of this venue and contribute to the successful hosting of the Asian Games," Wang said.
Hu Chunliang, head of the construction team, said he is planning to organize a series of celebrations and give out incentives to workers who stay put in the city during the holiday period.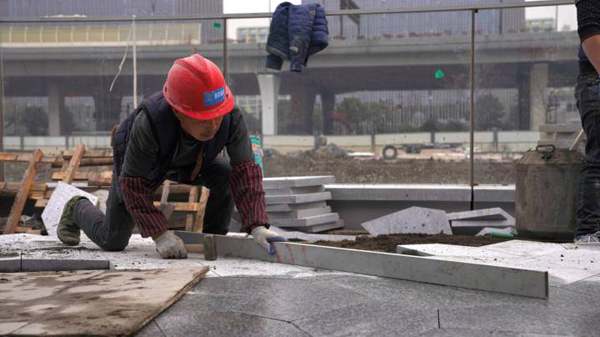 A man works on an outdoor decoration element of the venue. [Photo/zjol.com.cn]