University students enjoy colorful holiday life in Hangzhou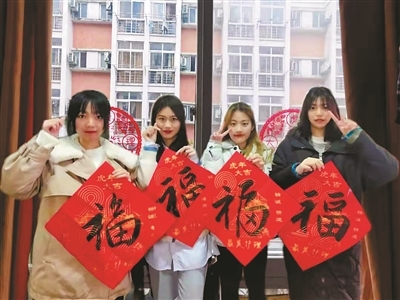 Students from Zhejiang Chinese Medical University pose for a group photo with the Chinese character "福" gifted by the university. [Photo/hangzhou.gov.cn]
Some university students from other cities decided to stay in Hangzhou, capital of East China's Zhejiang province, for the Spring Festival due to the recent sporadic outbreaks of COVID-19 in China, local media reported on Jan 26.
Li Keyi from Henan province, who studies Turkish at Zhejiang International Studies University, made a full schedule for himself during his first winter vacation in Hangzhou.
Li said that he would spend his afternoons reading the books that he did not have time to finish during regular school time.
According to Li, the university's leaders will have lunch with students and teachers staying in Hangzhou for the Spring Festival on Lunar New Year's Eve and the Party secretary of the university will write the Chinese character "福" with a writing brush for them.
To entertain its students and teachers, Zhejiang Chinese Medical University has organized a series of activities, including a tea party, collection of "福" characters, running, and campus tours.
Some other universities are offering gift baskets to students and teachers who stay in Hangzhou for the annual festival and inviting them to make dumplings and dishes for Lunar New Year's Eve dinner.