2021's 'Focus on Zhejiang' cultural activity concludes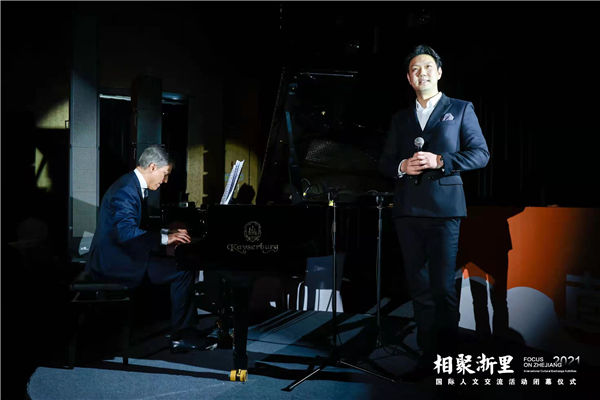 The 2021 "Focus on Zhejiang" International Cultural Exchange Activities event closed in Hangzhou, East China's Zhejiang province, on Jan 21, 2022. [Photo provided to chinadaily.com.cn]
The 2021 "Focus on Zhejiang" International Cultural Exchange Activities event closed on Friday in Hangzhou, East China's Zhejiang province.
Since its launch in May last year, a series of activities has been held in Zhejiang. An experience team made up of "Envoys of Picturesque Zhejiang", foreigners in Zhejiang, and experts in the field of international cultural exchanges, conducted a journey to admire scenery along the Oujiang River Poetry Road. They visited Lanxi in Jinhua to explore the Kongming Lock and Bagua Array, and gathered in Anji of Huzhou to witness the beautiful countryside and green development.
The 2021 "Envoys of Picturesque Zhejiang" group has added 26 new members from 19 countries, including an American teacher who tells the story of Wenzhou's intangible cultural heritage from a unique perspective, an American "China Hand" who can translate ancient Chinese poetry, as well as a Korean entrepreneur who actively promotes Silk Road e-commerce.

At the closing ceremony, a total of 13 international cultural exchange bases in Zhejiang province were awarded, such as the China Academy of Art, Zhejiang Provincial Cultural Center, and Xiling Seal Engraver's Society.
The event was jointly sponsored by the Information Office of the Zhejiang government and the Zhejiang department of culture and tourism.