In Hangzhou, Omicron outbreak tied to catering company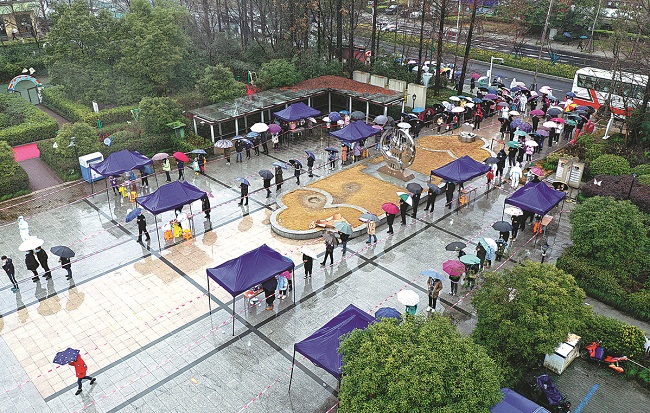 Residents line up to take nucleic acid tests for the novel coronavirus in Binjiang district in Hangzhou, Zhejiang province, on Thursday. DONG XUMING/FOR CHINA DAILY
The Omicron virus strain tied to a company in Hangzhou, Zhejiang province, may have gotten out of the city, a senior provincial health official said.
In the first case, a person surnamed Gan noticed symptoms on Monday and went to the hospital the next day. His initial screening was positive, said Xia Shichang, deputy director of the Zhejiang Health Commission.
Gan, an employee of Welbilt (China) Catering Equipment Co, was confirmed with the Omicron variant by medical experts early on Wednesday, Xia said in an interview with CCTV news on Thursday.
Gan had participated in the annual conference of the company on Jan 19 before the company started its Lunar New Year holiday.
"We estimate that Gan might become infected on Jan 19. In this way, it has been nearly a week to the diagnosis of the case. Therefore three generations of cases may have spread," he said.
Fifty-seven of Gan's colleagues have now left Hangzhou for the Spring Festival holiday, so three cases have spread outside Zhejiang province, Xia said.
The company has a total of 297 staff members, with 240 now living in 12 districts and counties in Hangzhou, he said.
The transmission chain of the latest COVID-9 outbreak in Hangzhou is clearly related to the company, Xia said.
Most of the patients identified in this outbreak are employees of the company, plus a few nearby residents, Xia said.
Employees rent houses nearby to live together, and they once went shopping and visited local stores and restaurants, causing a nearby outbreak, Xia said.
"A wedding ceremony and banquet were held in a nearby community, with some participants having tested positive," he said.
Although there has been a community outbreak, the transmission chain of the confirmed cases is very clear and belongs to the same chain, Xia said.
According to Xia, relevant departments have found a total of four double gene-positive samples from the company's unused imported raw materials in the wake of the outbreak.
Tests found the Omicron strain, which has high similarities with the strain reported abroad on Dec 11.
"In terms of imported materials testing, we preliminarily believe this round of outbreak is closely related to imported materials from abroad," he said.
The Health Commission said Hangzhou had reported a total of 14 confirmed cases, all with mild symptoms, pushing up the city's total to 22 cases in this round of outbreak as of Thursday.