Dian Diagnostics appointed health testing services supplier of Hangzhou 2022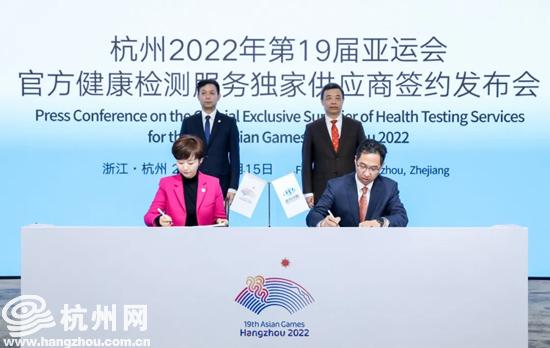 Representatives from the organizing committee of the Asian Games Hangzhou 2022 and Dian Diagnostics sign an agreement in Hangzhou, capital of East China's Zhejiang province, on Feb 15. [Photo/ori.hangzhou.com.cn]
Hangzhou-headquartered Dian Diagnostics was named the official exclusive supplier of health testing services for the Asian Games Hangzhou 2022 at a signing ceremony held in Hangzhou, capital of East China's Zhejiang province, on Feb 15.
Du Mengfei, deputy director of the committee's Marketing Department, signed the agreement with Chen Haibin, chairman of Dian Diagnostics.
Zhu Qinan, director of the competition department of the committee, said that all work related to epidemic prevention and control, medical health and logistics for the games is currently progressing smoothly.
He expressed hope that Dian Diagnostics would provide high-quality services for the Asian Games.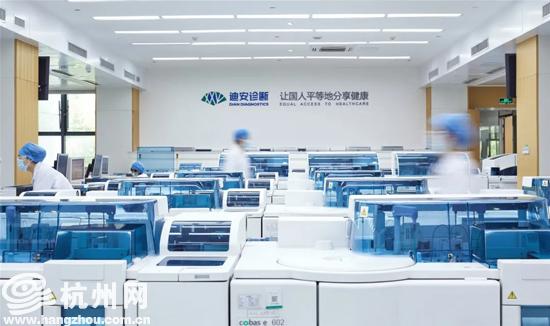 Dian Diagnostics is headquartered in Hangzhou. [Photo/ori.hangzhou.com.cn]
Chen said that Dian Diagnostics currently has 40 medical laboratories across the country and has provided services to more than 20,000 medical institutes and over 300 million people.
As the official health testing service provider for the Asian Games, Dian Diagnostics will develop a health monitoring information system that suits the needs of the games, said Chen.
Established 26 years ago, Dian Diagnostics operates a developed industrial chain involving diagnostics products and services, health management, gene sequencing, and pathological solutions.
February 14, 2022

February 8, 2022

January 30, 2022
February 10, 2022