Hangzhou Asian Games calls for Gen Z reporters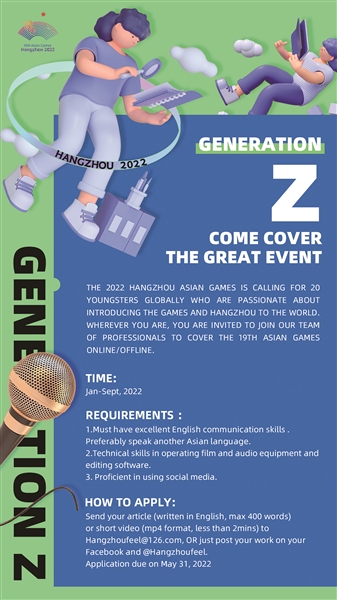 The 2022 Hangzhou Asian Games is calling upon 20 youngsters from around the world to introduce the event and Hangzhou to the world. [Photo/hangzhou.com.cn]
The 2022 Hangzhou Asian Games is calling upon 20 youngsters from around the world to introduce the event and Hangzhou to the world.
The selection will run until May 31, and from June to September, the 20 selected generation-Z members will attend news trainings, join a team of professionals, and have the opportunity to cover the 2022 Hangzhou Asian Games online or offline.
Applicants must proficient in the use of social media, have excellent English communication skills, and preferably speak another Asian language. Technical skills in operating film and audio equipment and editing software are also required.
Online applications can be sent to the email address Hangzhoufeel@126.com or the Facebook account @Hangzhoufeel. Self-introductions can be written in English (under 400 words), or be filmed in English (less than two minutes) and in mp4 format. They must be themed around the 19th Asian Games Hangzhou 2022.
The election is hosted by City Express and its English version Hangzhoufeel, jointly organized by the School of Foreign Languages of Zhejiang University of Science and Technology and the School of Foreign Languages of Hangzhou Normal University.
The 19th Asian Games Hangzhou 2022 will take place from Sept 10 to 25 and be attended by media experts in sports news, global news, and multimedia production.