Automatic meteorological stations launched for Asian Games
A meteorological observation device is installed near an Asian Games stadium to monitor weather conditions for the Games. [Photo/ori.hangzhou.com.cn]
Sixty-one automatic meteorological stations have been installed for the upcoming Asian Games Hangzhou 2022, local media reported on March 18.
Among them, 19 are located in the Games' co-host cities Ningbo, Wenzhou, Huzhou, Shaoxing and Jinhua.
These automatic meteorological stations will be used to measure the temperature, humidity, rainfall, air pressure, wind speed and visibility near by the stadiums, as well as monitor the temperature of sand and water for events such as beach volleyball and aquatic sports.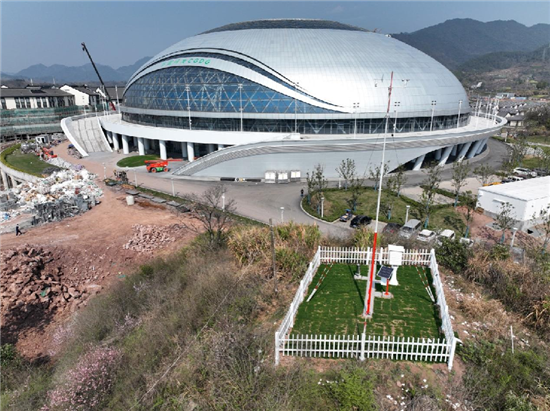 A portable meteorological station is erected up near by a stadium for the Asian Games Hangzhou 2022. [Photo/ori.hangzhou.com.cn]
Intelligent devices, which are called portable meteorological stations, have also been put into use.
According to Yang Huanqiang, an official with the Hangzhou Meteorological Bureau, these portable devices will help determine the differences between indoor and outdoor meteorological data.
Accurate weather forecasts will facilitate the arrangement of schedules and guarantee the safety of participants, said Yang.