Asian Games e-sports venue a sight to behold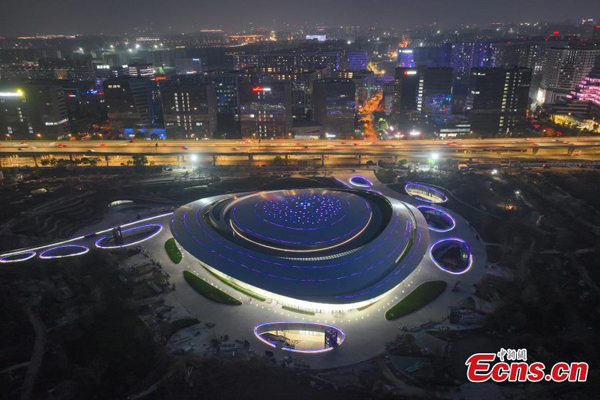 A night view of the China Hangzhou E-sports Center, a venue of the 19th Asian Games Hangzhou 2022 in Hangzhou, East China's Zhejiang province, on April 24. [Photo by Wang Gang/China News Service]
The China Hangzhou E-sports Center, a venue of the 19th Asian Games Hangzhou 2022, will host the finals of e-sports competitions, including Dota2, HearthStone, League of Legends, and Street Fighter V. This is the first time in the history of the Asian Games that medals will be up for grab in e-sports.

Though the Asian Games were temporarily postponed due to the pandemic, the e-sports venue, located next to the ecological park in Gongshu district and covering an area of 82,000 square meters, is still attracting international attention.
The venue's popularity lies in its unique features, including its iconic vortex-like ceiling, which won a gold medal for steel structures last year by applying tailored anodized aluminum panels and a motorized color-changing glass skylight to form double-curved surfaces.
The venue also features dimensional audio-visual equipment such as 240-square-meter tunnel screens at the center and 15 screens of 567 square meters on surrounding walls.
Cutting-edge sound and adjustable stage lighting equipment also make it possible for the venue to host sports events, concerts, performances, and exhibitions in the future.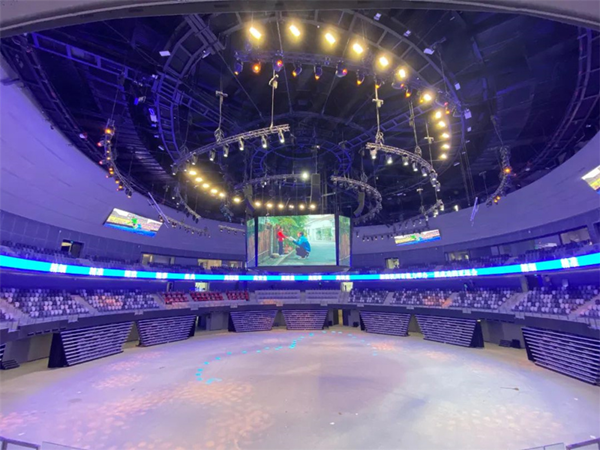 All screens and lights are on at the China Hangzhou E-sports Center. [Photo/hangzhou2022.cn]