Hangzhou hotel follows zero waste transformation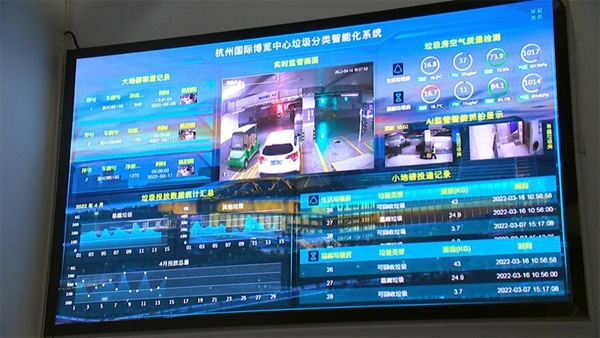 An intelligent system for data analysis and garbage classification is set up at the waste disposal sites at the hotel. [Photo/hangzhou2022.cn]
The Hangzhou International Expo Center Hotel, a designated hotel for the 19th Asian Games, is speeding up zero waste efforts by helping its centralized waste disposal sites become more intelligent, local media outlets reported.

The five sites, which are located at the lower ground floor and occupy a total area of 1,000 square meters, are equipped with different facilities to meet their zero-waste needs.
For example, two cold storage facilities were installed to handle the large amount of kitchen waste generated every day. With the temperature being set at 2 to 8 degrees Celsius, the perishable garbage will no longer produce odor.
An intelligent air purification system and a spray disinfection system, which will be put into operation within the year, have been installed to keep the disposal sites clean and tidy.
The spray disinfection system will start working at a fixed time every day, in line with the frequency of garbage pickup," said Hu Guanglong, head of the hotel's property management department. "The intelligent air purification system can automatically monitor the humidity, temperature, and other air quality indexes of the sites."
An intelligent system for data analysis and garbage classification was also set up at the sites, helping the hotel estimate the amounts of various wastes and improve their management.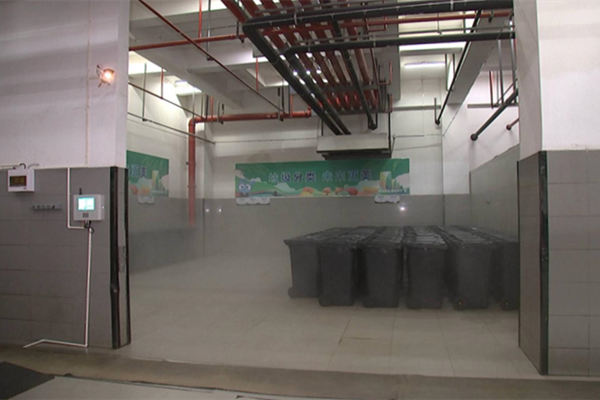 One of the two cold storage facilities designed for kitchen waste. [Photo/hangzhou2022.cn]

May 11, 2022

April 27, 2022
March 16, 2022