Grand Canal Park well on way to completion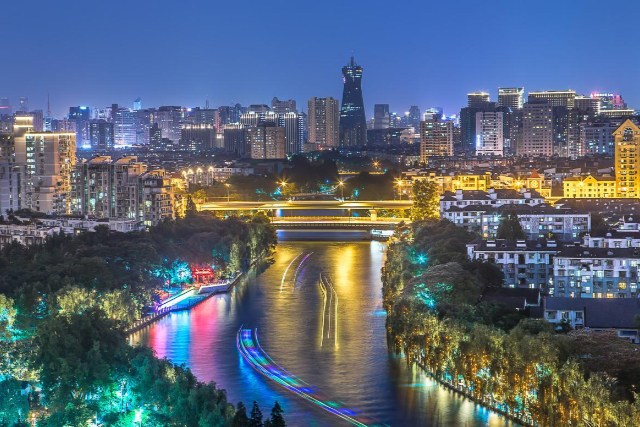 The Grand Canal in Hangzhou. [Photo by Zhang Wentao/For chinadaily.com.cn]
Plans for the Hangzhou Grand Canal National Cultural Park were issued recently in Hangzhou, Zhejiang province. Its goal is to better protect, inherit and utilize the Grand Canal.
Construction of the park is an innovative exploration that demonstrates China's cultural confidence, said Chen Jiang, deputy director of the Hangzhou Canal Comprehensive Protection Center.
Unlike traditional parks, this concept emphasizes the originality of the ecosystem, comprising both the natural scenery and regional culture and consolidating confidence in Chinese culture and highlighting the region's cultural identity, Chen said.
Along the 30 kilometers of waterway in Hangzhou's Gongshu district, there are many things for tourists, such as the Shangtang Ancient Canal Night Tour and Grand Canal Red Sandalwood Museum. One can enjoy night views and cultural heritage as the same time.
Since last year, construction began on 20 landmarks related to the Grand Canal in Gongshu district. Seven of those have already opened to the public, including museums themed on the canal.
The project in the Hangzhou section covers seven urban areas along the canal, focusing on protection, theme display, cultural and tourism integration and traditional use. It includes Tangqi Jiangnan Canal Town and Gongchen Bridge Canal Cultural Community.
Construction of the national cultural park was launched in 2019. It is expected to be basically complete by the end of next year.
With a history of more than 2,500 years, the Grand Canal, a vast waterway system in the northeastern and central-eastern plains of China, connects Beijing with Hangzhou and served as a significant transportation artery in ancient China.
Fang Xiaoying in Hangzhou contributed to this story.
September 6, 2022

September 1, 2022

August 26, 2022
August 18, 2022