World cultural heritage adds color to Hangzhou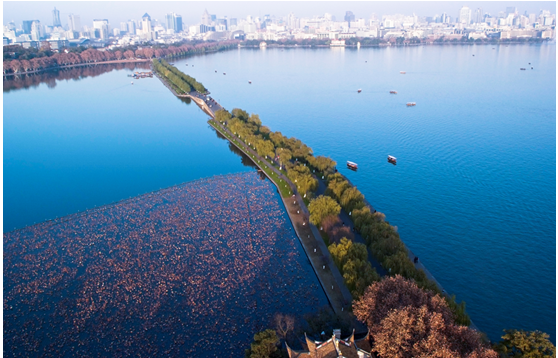 A bird's-eye view of the Yanggong Causeway on West Lake, a tree-lined bank across the Su Causeway. [Photo/hangzhou.com.cn]
As June 11 marks China's second Cultural and Natural Heritage Day, Hangzhou, home to three world cultural heritages, held an evening gala at the Grand Canal Music Park that night.
Threaded by water, the common spirit shared by Hangzhou's three world heritage items, namely West Lake, the Grand Canal, and the Archaeological Ruins of Liangzhu City, shows such as singing and dancing performances, scene plays, and narrations were staged at the gala to explore the historical stories and humanistic feelings behind the world heritage items.
The gala also offered spectators an international perspective on the interpretation of the world heritage items. West Lake was blended into a musical themed around the ties between Hangzhou and Italy's Verona. The Grand Canal was matched with Canada's Rideau Canal in antiphonal chanting. Academic dialogue between Chinese and British archaeological experts was based on the Liangzhu Civilization.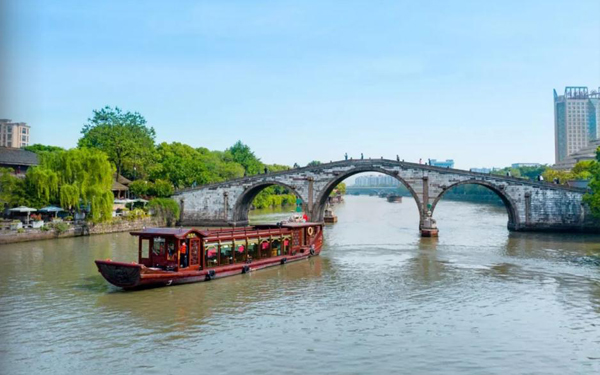 A cruise ship travels under the Gongchen Bridge, a famous bridge on the Beijing-Hangzhou Grand Canal that was built during the late Ming Dynasty (1368-1644). [Photo provided to ehangzhou.gov.cn]
Three cultural treasures on Hangzhou's world heritage items were exhibited at the event, including a painting portraying views of Emperor Qianlong's (1711-99) imperial palace at West Lake, a map of the Grand Canal for the water transport of grain to the capital during the reign of Emperor Xianfeng (1851-61), and a piece of cong, a long hollow piece of jade with rectangular sides which is regarded as the most exquisitely carved, highest-quality and largest such item ever found.
A total of 15 local residents were also selected to form a special delegation and "escort" the city's world cultural heritage items, including Cui Wei, national first-class director, president of Hangzhou Opera and Dance Theater, and deputy director of the Hangzhou Asian Games (Asian Para Games) Grand Canal opening and closing ceremonies.
A bird's-eye view of the Archaeological Ruins of Liangzhu City. [Photo by Jiang Yangbo/For China Daily]
June 13, 2022

June 7, 2022

June 6, 2022