The man of matchstick buildings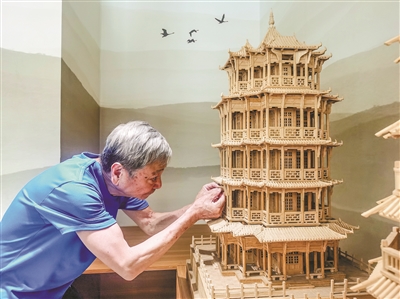 Ni works on the Yellow Crane Tower, one of four famous towers in ancient China. [Photo/hangzhou.com.cn]
Matchsticks and ice cream sticks, junk to most people, are a rare treasure for Ni Xinyuan, 77, who has been building architectural models with them for decades.
The Gaoting Pavilion Ni is currently working on, which has a height of 60 centimeters and a base diameter of 25 cm, is a cultural landmark of Hangzhou.
"I've been working on it for over two months. The main structure is almost finished and I will lay the roof tiles next. The whole project is expected to be completed before the National Day holiday in October," Ni said.
"You should first make a strong base, then the beams, then the framework, and finally the decorations. You see, the six pillars have used 450 matchsticks," Ni added.
Over the past few decades, the craftsman has created over 30 architectural models, including the four famous towers in ancient China and the 10 most-renowned views of West Lake, vividly demonstrating the exquisite wooden architectural styles and techniques preserved from ancient China.
July 15, 2022

July 13, 2022

July 8, 2022
July 15, 2022