Archive to preserve bibliology resources opens in Hangzhou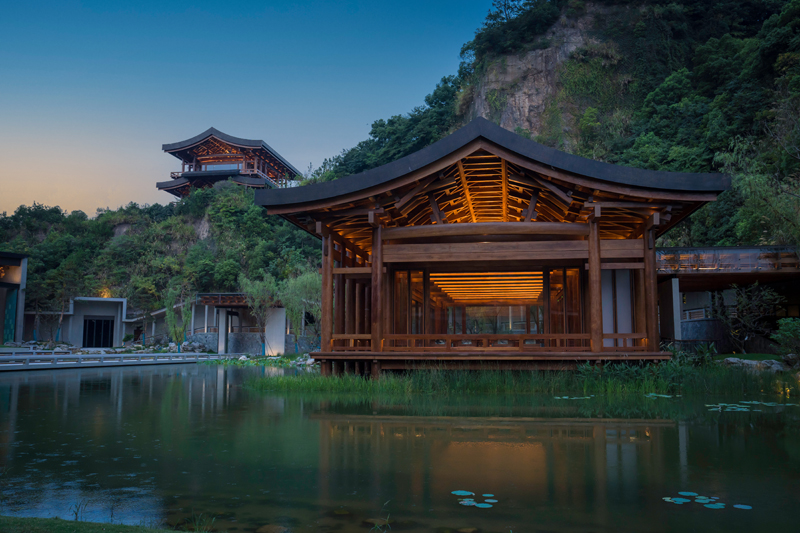 The branch blends in well with the surrounding landscape. [Photo provided to ehangzhou.gov.cn]
Wang Shu, chief designer of the branch, thefirst domestic winner of the world top architecture award – the Pritzker Prize – and a professor at the China Academy of Art, said the branch has been ingeniously transformed from an abandoned mine that the mountains left by quarrying stone can now complement with the newly-built pavilions, creating a winding and secluded scene.
Screen doors made from celadon produced in Longquan, a county-level city of Lishui, Zhejiang province, were a highlight of the Wenrun Pavilion, or main building of the branch.
"I was inspired to use screen doors by a classic painting of the Southern Song Dynasty (1127-1279), when Hangzhou was the capital, and the reason to use celadon was it echoes the name of Wenrun Pavilion, indicating it to be as gentle as a jade," Wang said.
The branch, which is a library, museum, art gallery, archive, and exhibition hall, mainly focuses on the preservation, exhibition, research and exchange of publications and cultural resources in East China. More than 1 million exhibits have been collected.
The branch will be opened to the public in early August.
August 26, 2022

August 22, 2022

August 17, 2022
August 23, 2022