A heritage that is carved in stone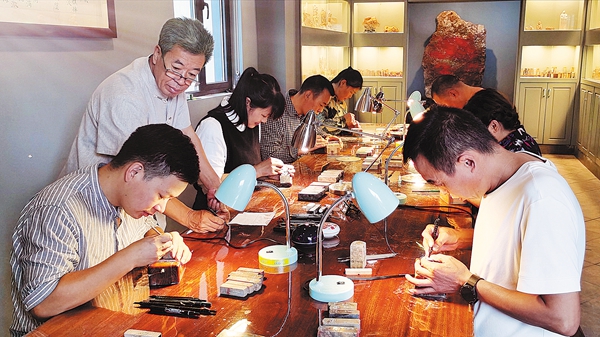 Qian Gaochao teaches students carving skills. [Photo provided to China Daily]
Craftsmen in Zhejiang province use their knowledge passed down over generations to mark the Asian Games in a manner that will stand the test of time, reports Ma Zhenhuan in Hangzhou.
Craftsman Qian Gaochao and his son, Qian Youjie, spent more than six months making three "chicken-blood "stone carvings depicting the taekwondo and wrestling competitions of the 19th Asian Games Hangzhou 2022, which will be held in Lin'an district, Hangzhou, Zhejiang province, next year.
As a national inheritor of the intangible cultural heritage of the chicken-blood stone carving technique and a master of Chinese arts and crafts, Qian Gaochao says: "It's a great honor to be able to contribute to the Asian Games, held in my hometown, through my handicraft."
In the chicken-blood stone museum in Changhua town, Lin'an district, Qian Gaochao says that he is working on the other carvings related to the Asian Games. The previously postponed event will run from Sept 23 to Oct 8, 2023. This allows him more time and he is working on the carvings, featuring imagery of the equestrian competition, which is scheduled to be held in the Tonglu Equestrian Centre in Hangzhou.
September 1, 2022

August 26, 2022

August 22, 2022
September 2, 2022