Zhejiang FC to help with youth soccer training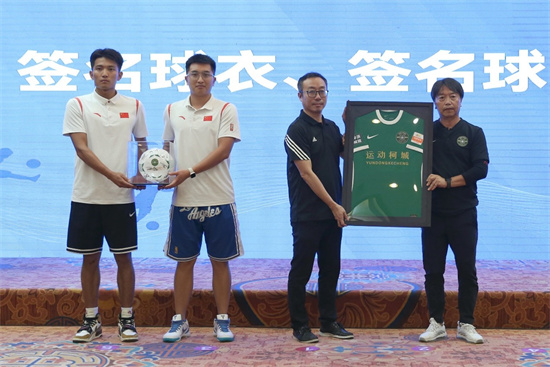 Representatives of Zhejiang Professional Football Club give a signed jersey and ball to representatives of Quzhou, Zhejiang province on Aug 30. [Photo/Hangzhou Daily]
Hangzhou-based Zhejiang Professional Football Club, or Zhejiang FC, signed a cooperation agreement with the Quzhou municipal sport bureau on Aug 30.
According to the agreement, Zhejiang FC will use its resources and influence to help the city with its soccer training for youths.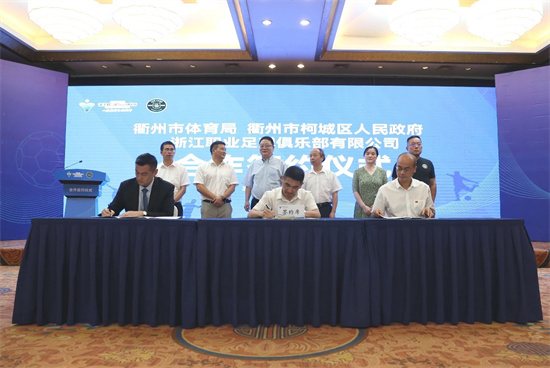 The signing ceremony between Zhejiang FC and Quzhou is held on Aug 30. [Photo/Hangzhou Daily]
Local authorities in Quzhou said during the ceremony that the city's youth soccer team has sent over 30 youth players to Zhejiang FC. The city's youth soccer team was previously the champion at Zhejiang's provincial games.
Zhejiang FC recently returned to the Chinese Super League after six years in the lower tier. Its general manager Jiao Fengbo said the club is eager to help Quzhou improve its footballing standards.
Zhang Yadong, deputy director of the Sport Bureau of Zhejiang Province, described the partnership as a win-win endeavor.
September 6, 2022

September 1, 2022

August 26, 2022
September 7, 2022