Pumped storage power station starts preparatory construction in Jiande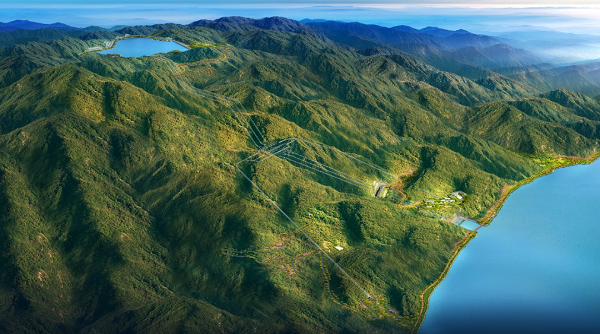 A rendering of the pumped-storage power station in Jiande, East China's Zhejiang province. [Photo/WeChat account: JDFB64734823]
After 30 years of planning, the preparatory project for a pumped-storage power station in Jiande, East China's Zhejiang province, started construction on Sept 15 and is scheduled to be put into operation in 2029.
Once completed, the power station will be the largest and the first privately-invested station of its kind in East China.
The project, receiving a total investment of 14.05 billion yuan ($1.98 billion) from GCL Energy Technology Co, and has a planned area of about 161.44 hectares for six 400,000-kilowatt pumped storage units. The total installed electrical capacity of the project will be 2.4 million kilowatts, which is equivalent to the electrical capacity of three hydropower stations on the Xin'an River.
The project mainly consists of an upper reservoir, a water delivery system, an underground powerhouse and a ground switch station. The lower reservoir utilizes of the Fuchun River reservoir.
Zhu Yufeng, vice-chairman and president of GCL Group and chairman of GCL Energy Technology Co, said that the project is designed to generate 2.4 billion kWh of power and 3.2 billion kWh of pumped power per year.
"The project is expected to save about 480,000 metric tons of coal consumption and 960,000 tons of carbon emissions annually after being put into operation," Zhu said.
The power station will also drive the construction of surrounding mountain roads, provide jobs for local residents, and motivate local tourism development and urbanization.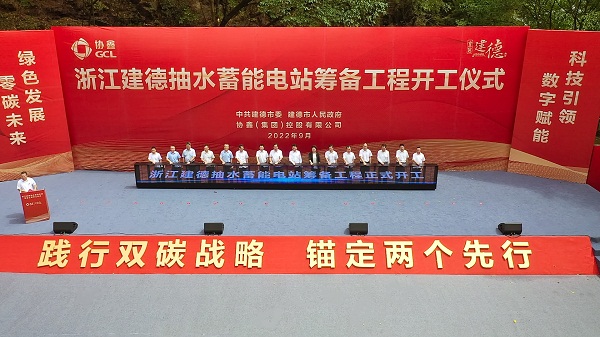 The preparatory project for a pumped-storage power station in Jiande, East China's Zhejiang province, starts construction on Sept 15. [Photo/gcl-et.com]
September 23, 2022

September 21, 2022

September 19, 2022
August 18, 2022