Hangzhou Asian Games Fun Run arrives in Thailand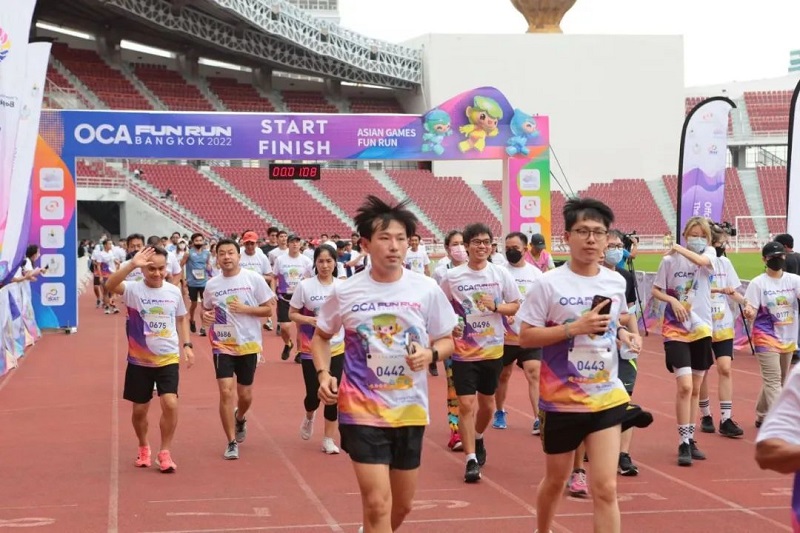 Around 800 runners attend the Hangzhou Asian Games Fun Run in Bangkok, Thailand on Nov 13. [Photo/WeChat account: hzyy2022]
Following the two Hangzhou Asian Games Fun Run events in Cambodia and Uzbekistan, the third edition took place in Bangkok, Thailand on Nov 13 to promote the upcoming Games.
The event was co-organized by the Olympic Council of Asia, the Hangzhou Asian Games Organizing Committee, the National Olympic Committee of Thailand, and the Sports Authority of Thailand.
Husain Al Musallam, director-general of the Olympic Council of Asia, addressed the 800 runners at the 5km fun run event before helping to signal the start at the Rajamangala National Stadium.
He praised the role of Thailand in promoting and developing the Olympic sports movement over seven decades and said the country has had a long history of hosting OCA events, including four Asian Games – in 1966, 1970, 1978 and 1998.
"I would like to express my deepest thanks and congratulations to Thailand for their good preparations for the Asian Games Hangzhou 2022," Musallam said.
November 9, 2022

November 7, 2022

November 4, 2022
November 7, 2022