Zhejiang sports lottery center employs Olympic champions as promotion ambassadors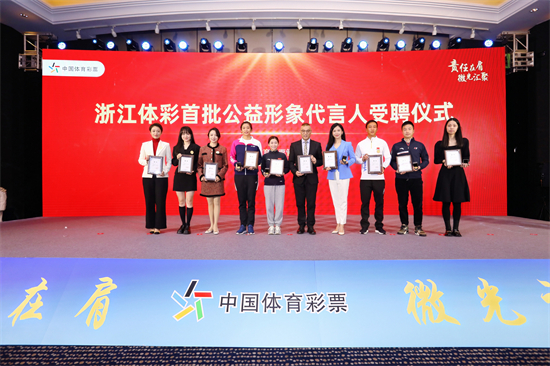 Famous athletes are employed as public spokespersons for the Zhejiang sports lottery ticket at a ceremony held in Hangzhou, capital of East China's Zhejiang province, on Nov 15. [Photo/Hangzhou Daily]
The Zhejiang Sports Lottery Center raised 4.48 billion yuan ($629 million) for charity in 2021 and provided more than 23,000 jobs last year. A 2021 report on the center's social welfare efforts was released at a ceremony on Nov 15.
This is the fifth year in a row that the provincial sports lottery center has reported on its work publicly.
According to the report, the center set aside 576 million yuan to support the development of sports in Zhejiang last year.
During the ceremony, seven famous athletes, including Jiang Yuyuan, the gold medal winner in women's gymnastics at the 2008 Beijing Olympics, and Wang Lin, the champion of the women's badminton singles in the 2010 World Badminton Championships, were employed as the first group of public image ambassadors of Zhejiang sports lottery tickets.
November 14, 2022

November 9, 2022

November 7, 2022
November 7, 2022