Veteran artist Chen Jialing innovates with Chinese ink painting
Chen Jialing is well-known in Chinese art circles for his desire to change. On the foundation of traditional Chinese ink painting, he worked to innovate and break down boundaries into categories such as figures, landscapes, flowers and birds. Now, at 85, the veteran artist is still using his brush to portray the stunning natural scenery of his native land while sharing Chinese narratives with the world.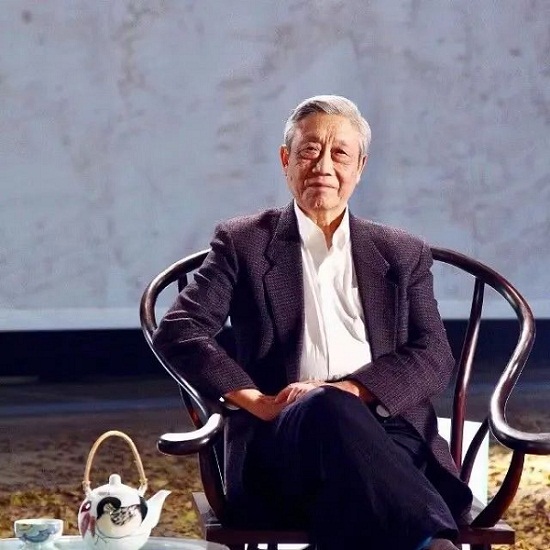 Chinese painting master Chen Jialing. /CMG
Chen Jialing was born and raised in an impoverished family but never surrendered his dream of becoming an accomplished artist. In 1937, his mother gave birth to him while trying to escape the war. Amid turbulent times, she always drew various animals to cheer him up. This instilled in him a deep-rooted love of art. When he graduated from primary school at 11, his father died, leaving his mother to care for him and his three younger siblings. Chen chose to drop out of school and became a barbershop apprentice.
His fortunes changed in 1949 when the People's Republic of China was founded. With the financial aid offered by the government to students from low-income families, Chen rejoined the school and was later admitted to the Department of Chinese Painting at the China Academy of Art in Zhejiang in 1958.
He studied under Pan Tianshou, a master of modern Chinese painting and an outstanding art educator. After graduating in 1963, Chen went to Shanghai to teach at the Private Shanghai Academy of Fine Arts. In the 1970s, Chen Jialing studied in Shanghai with Lu Yanshao, a master of contemporary Chinese painting. He studied landscape, calligraphy, flowers, and birds, laying the groundwork for his Chinese painting.
During this period, Chen made significant progress in his painting skills and began forming his unique style. This transformation could be seen in his works, such as "My Beloved Wife A Juan" and "Portrait of Mr. Lu Xun."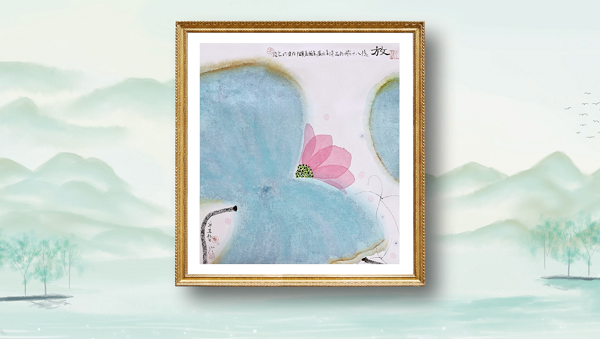 One of Chen Jialing's paintings is selected for the 6th National Art Exhibition in China. /CMG
Looking back at the time, Chen said he learned painting skills from not only these masters but also their attitudes towards art. For example, Pan Tianshou once told him that if no cultural symbol represents a nation, the nation cannot stand firm in the world. It has since become the light and goal of his lifelong artistic pursuit.
Since the 1980s, Chen has been famous for breaking traditional techniques to paint the lotus. One of his lotus-themed works was selected for the 6th National Art Exhibition in China. This represented a breakthrough in his career.
With the flower as his signature, Chen created a modern Chinese painting style combining impressionism, abstraction, and expressionism. He abandoned the standard use of pen and ink and explored the magical effect of the interaction between paper, water, brush, pen, and color. This led to the birth of his new light ink style. Chen also researched paper and finally chose Xuan paper, a high-quality but delicate rice paper. After special treatment, the sensitivity and permeability of Xuan paper are very high, so the artist can freely lay a large area of light ink and present natural moisture and rich layers in ink.
In 2007, Chen held his first solo exhibition at 70. Since then, he has staged an exhibition almost every year. At the Group of 20 (G20) Hangzhou Summit in 2016, Chen's large-scale work "The Scenery of West Lake" became the background painting for the group photo of the world leaders. Measuring 5 meters by 2, the work helped people worldwide appreciate the beauty of modern Chinese ink painting.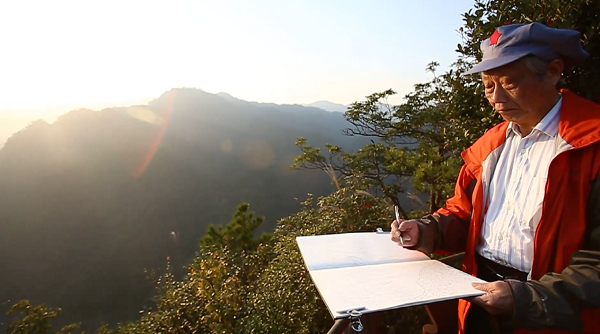 Chen Jialing visits Jinggang Mountains. /CMG
The biopic about his life, "Chen Jialing," was completed in 2014. The film took three years to record Chen's sketching tour around the country and the process of him creating his grand series of landscape works. In 2013, he visited Jinggang Mountains, a region renowned as "a cradle of the Chinese revolution," and elegantly captured its spectacular vistas to pay homage and record his artistic renderings for posterity.
After the age of 70, Chen Jialing continued to paint and creatively extended the beauty of Chinese ink painting to other areas of life, such as furniture, porcelain, silk, and film. In Jingdezhen, Chen cooperated with ceramic artists and made 40 pieces of large vats. Each vat is big enough for four people. Such works were a great challenge for Chen, both physically and mentally, as he was in his 80s. Chen painted 40 vats in pursuit of the effect of kiln transformation. There is significant uncertainty in the kiln, which will make the creation more difficult. Only 15 pieces succeeded in the end.
The veteran artist noted that China has also been changing in the past few decades, which became the passion, inspiration, and motivation for his artistic expression. He feels people should be proud of the country's prosperity and praise it. With gratefulness, the artist added that as an art worker, the pursuit and expression of beauty are how he shares his love towards home and country.
November 30, 2022

November 24, 2022

November 21, 2022
November 21, 2022