Expats witness changes in Hangzhou's villages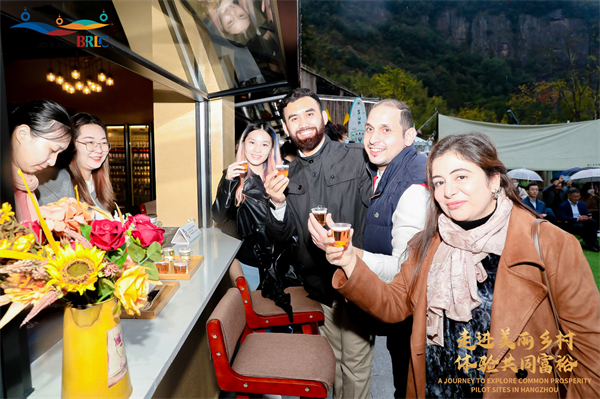 Members of the delegation pose for a photo while holding up drinks to cheer. [Photo/Hangzhou Daily]
Nearly 30 expats living in Hangzhou, capital of East China's Zhejiang province, visited rural areas in the city from Nov 18 to 19 as part of the city's "see for yourself" campaign, which encourages expats in Hangzhou to learn about the changes in Hangzhou's rural areas.
These expats, who are business executives, entrepreneurs, oversees students and commerce counselors, are from over 10 countries including Indonesia, Malaysia, Finland, Japan and South Korea.
In Tonglu county, the delegation was given a tour of the headquarters of ZTO Express, one of the biggest logistics companies in China, and was impressed by the digital technology-empowered logistics.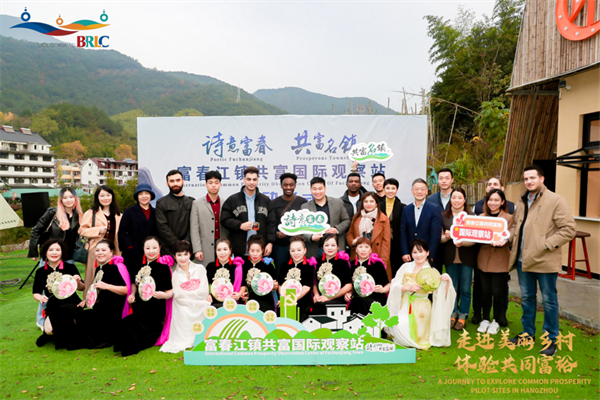 Expats pose for a photo in a Hangzhou village. [Photo/Hangzhou Daily]
The group also attended a Yueju Opera performance, a traditional Chinese tea ceremony and a qipao fashion show, and tried their hands at some intangible cultural heritage crafts.
Du Shigen, deputy director of the Hangzhou office for foreign affairs, expressed hope that activities such as this would provide a bridge for more expats to learn about the city.
November 24, 2022

November 21, 2022

November 14, 2022
November 21, 2022