Hangzhou shines at Qatar World Cup
Interior of the Lusail Stadium in Qatar. [Photo/hangzhou.com.cn]
Two Hangzhou companies have contributed to the development of related products and venue construction for the ongoing 2022 FIFA World Cup in Qatar.

Hangzhou Moshanghua Computerized Knitting Co, based in Lin'an district, was a supplier of the scarves and hats for fans of the world's top football event.
The company has produced hats for official sponsors including Coca-Cola and Budweiser, and scarves for 28 football teams.
This year marks the sixth time that Moshanghua was recognized for its World Cup products. It has also inked long-term partnership with major leagues such as the World Cup, the European Championship, and the English Premier League.
Yuhang-based Hailun Steel-Casting produced more than 4,000 standardized joints for Lusail Stadium, a golden-bowl-shaped establishment which is the largest of its kind in Qatar. The venue was one of the eight sites especially constructed for the World Cup and will host the final game of the event.
The roof of the stadium is a hyperbolic structure with a fish-belly cable network, which is recognized as having the largest span, longest overhang, most complex structure, and highest design standard of any cable network roof monolithic building. Such a structure can easily become unstable, which means the selection of load-bearing parts is extremely critical.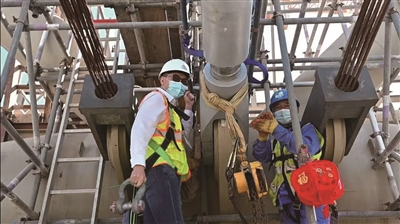 Members of the Hangzhou company contributed to Lusail Stadium. [Photo/hangzhou.com.cn]

January 4, 2023

January 3, 2023

December 26, 2022
January 5, 2023