Red rice wine drinking season begins in Tonglu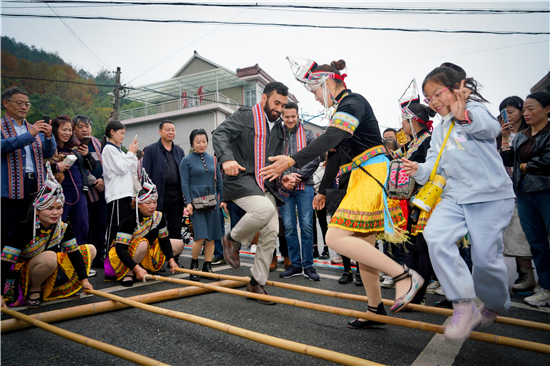 Visitors dance at the opening ceremony of the 5th Red Rice Wine Festival in Eshan She ethnic town in Tonglu county, Hangzhou, East China's Zhejiang province. [Photo/Hangzhou Daily]
The fifth Red Rice Wine Festival was unveiled in Eshan She ethnic town in Tonglu county, Hangzhou on Nov 19.
Red Rice wine is a typical specialty of the She ethnic group in Eshan town. This type of wine is known for its health benefits, as researchers claim that it cleans the lungs and spleen and helps improve blood circulation and cold resistance.
The ethnic group has been brewing red rice wine for more than 500 years, and the brewing technique has been listed as an intangible cultural heritage item in Zhejiang.
At the opening ceremony of the festival, guests were offered a chance to taste the local delicacies of the She ethnic group.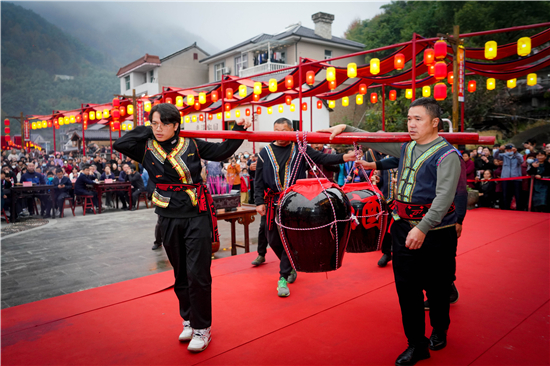 Ritual workers carry jars of red rice wine. [Photo/Hangzhou Daily]
Ritual workers sprayed newly-brewed red rice wine on the ground in a ceremony to mark the beginning of this year's red rice wine festival.
In October in the Chinese lunar calendar, She households begin making red rice wine and use it as a special treat for guests.
The brewing technique has now been industrialized and is no longer limited to households. Centers have been erected in local villages in Tonglu to make red rice wine and showcase its culture, stimulating the development of the red rice wine industry.
December 15, 2022

December 7, 2022

November 30, 2022
December 7, 2022