'Shanshuijian de jia': Variety show introduces diverse beauty of China's rural areas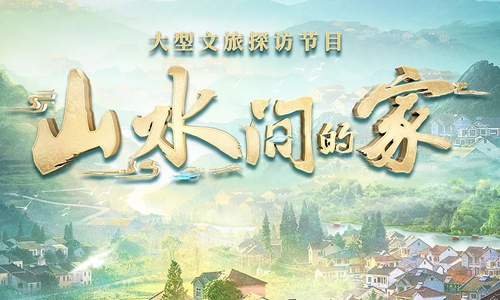 Promotional material for Shanshuijian de jia Photo: Courtesy of Douban
'Shanshuijian de jia': Variety show introduces diverse beauty of China's rural areas
Shanshuijian de jia (lit: Homes Among Mountains and Rivers) is a variety show that exhibits the revitalization of China's rural areas from multiple perspectives.
In the latest episode aired on December 17, host Sa Beining led a squad to Baofang village in East China's Jiangxi Province to explore the key to rural development hidden in tangerines, the secret to the rapid rise of the local economy.
The program has visited dozens of villages this season including Dongziguan in Hangzhou, East China's Zhejiang Province, and Qingxi in Central China's Hunan Province. The former village is famous for the novel Dongziguan written by famous writer Yu Dafu, while the latter is the hometown of 20th century writer Zhou Libo. These once impoverished villages have been relying on the integration of culture and tourism to write a new chapter in their residents' lives.
In another episode broadcast on November 26, the crew went to Weitou village in East China's Fujian Province to experience how the rural ocean industry has upgraded itself. Surrounded by clear seas, Weitou is known for its high-quality abalone.
In the episode, led by villager Wu Yeting, the crew heads out in the early morning to work at the seaside, giving the audience a direct impression of how abalone farming has acted as a powerful engine that lifted Weitou village out of poverty and put it on the fast track toward economic development.
A regular guest, Zhu Yong, a writer and director of the Cultural Communication Research Institute at the Palace Museum, once publicly wrote in an article in September that the reason he became "particularly curious" about this program was because he wanted to understand the rapid changes brought about by China's rural revitalization strategies.
"When I received the call from the production team, I couldn't wait to take part in the show to experience the changes myself. The team has combined both journalistic and artistic expressions together to present the show. And I want to recommend this to all my readers so they can immerse themselves into the beautiful scenery with our team," wrote Zhu.
December 23, 2022

December 15, 2022

December 7, 2022
December 22, 2022