Cloud computing serves Xiaoshan's smart traffic
A model of the Xiaoshan traffic cloud digital management system. [Photo/zjol.com.cn]
The government of Xiaoshan district in Hangzhou, East China's Zhejiang province, released the Xiaoshan traffic cloud on Dec 18 to help the district develop into a smart city, local media reported.
Alibaba Cloud, also known as Aliyun, a cloud computing company under Alibaba Group, provides a unified cloud infrastructure platform and digital twin simulation base for Xiaoshan traffic cloud and uses digital technology to help the district manage traffic.
The first batch of traffic cloud business scenarios under the plan include building an intelligent traffic management platform for the district's traffic police, supporting relevant state-owned enterprises in the district in digital transformation and upgrading, increasing the traffic capacity of the airport expressway and creating a smart traffic hub for the Xiaoshan International Airport.
As Hangzhou will hold the Asian Games this year, Xiaoshan district has defined the strategy of "rejuvenating the city through the Asian Games" and built the first "comprehensive transportation industry demonstration zone" in Zhejiang, said Cheng Xiaodong, executive deputy chief of the district.
"The traffic cloud has set up eight centers for highways, urban traffic, ports and shipping, logistics, aviation and other scenarios to achieve full traffic data fusion, simulation analysis and full closed-loop intelligent decision-making," Cheng said.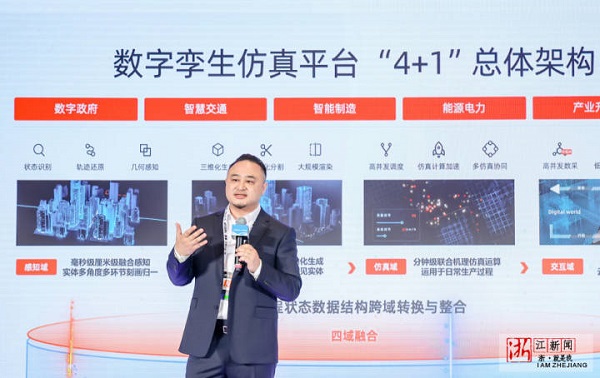 Digital solutions applied in Xiaoshan district are promoted at a digital fair. [Photo/zjol.com.cn]

January 4, 2023

January 3, 2023

December 26, 2022
January 5, 2023