Zhejiang entrepreneurs to play vital role in national modernization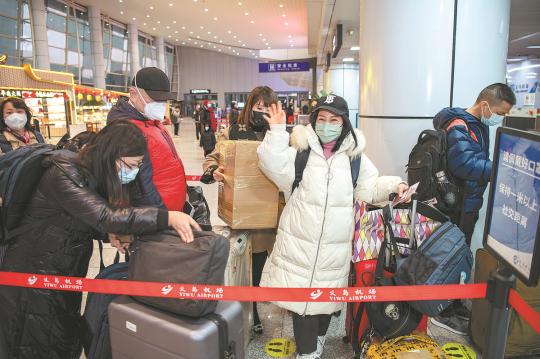 Business owners from 23 trading companies based in Yongkang, Zhejiang province, await boarding at Yiwu Airport, Zhejiang, on Sunday. They chartered a flight to the United Arab Emirates to seek business opportunities. (PHOTO by HU XIAOFEI/FOR CHINA DAILY)
Zhejiang entrepreneurs and businesses will play a vital role in China's modernization drive, according to top officials and experts in Hangzhou, capital of Zhejiang province.
For thousands of years, business people from Zhejiang have been making great achievements, and they will create more opportunities for the economic development of the province and the country, said Yi Lianhong, Zhejiang's Party chief.
He made the remarks at the Sixth World Zhejiang Entrepreneurs Convention, which opened on Friday and attracted over 700 participants, including business leaders, overseas Zhejiang business people, Fortune 500 representatives and scholars.
"Zhejiang entrepreneurs have been an important force in the province's development and transformation," Yi said. "They are an important engine for the pursuit of common prosperity and modernization."
They have also played a significant role in creating wealth and promoting prosperity through entrepreneurship and innovation, he added.
During the opening ceremony, 24 projects valued at nearly 120 billion yuan ($17.1 billion) were signed. Some 78 projects were agreed upon at the end of the convention, with a total investment of almost 370 billion yuan. They cover fields ranging from the digital economy, life and health and new materials, to new energy, rural vitalization and cultural tourism.
Nine major digital application platforms were launched in a bid to further empower the development of Zhejiang entrepreneurs and help them address major issues in areas such as R&D, financing and logistics.
The last decade has witnessed the rapid development of the private economy in Zhejiang, with its added value more than doubling from 2.2 trillion yuan to 4.9 trillion yuan, Qiu Qiwen, member of the Standing Committee of Communist Party of China Zhejiang Provincial Committee, said at the main forum on Saturday.
Among the top 500 private enterprises in China, Zhejiang is home to 107, the most of all provinces, Qiu pointed out, and for the past 24 years it has occupied the top spot.
Official statistics show that there were over 9.06 million market entities in Zhejiang at the end of August this year, a 7.3 percent increase year-on-year. In other words, one in seven people in Zhejiang is a business owner.
Outside the province, more than six million Zhejiang business people live across China and two million more reside overseas.
By creating a more market-oriented, rule-of-law and internationalized business environment, governments can provide better institutional safeguards to private businesses, Shi Jinchuan, dean of the Academy of Financial Research of Zhejiang University, told the forum.
"Private enterprises will help promote the high-quality development of China's economy and China's modernization through their own high-quality development," Shi said.
As the largest event of its kind, the World Zhejiang Entrepreneurs Convention has been held every two years since its inception in 2011. The sixth edition, originally scheduled for 2021, was postponed due to the COVID-19 epidemic to this year.
December 23, 2022

December 15, 2022

December 7, 2022
December 22, 2022