Canal program shows route of global progress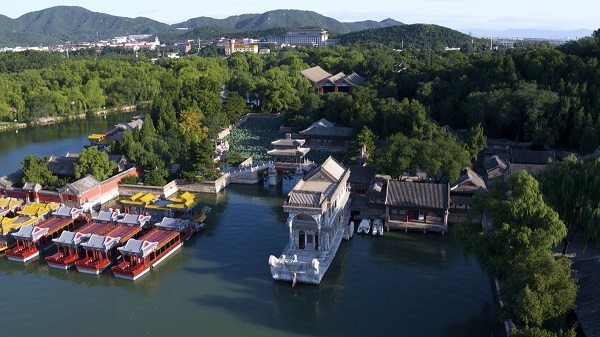 With a history stretching back about 2,500 years, the 1,797-kilometer-long canal that linked Beijing and Hangzhou, Zhejiang province, greatly advanced the development along the regions and cultural exchanges between southern and northern China. [Photo provided to China Daily]
The program suggested that the Summer Palace is one of the best places to know about the canal's history, as the royal garden's Kunming Lake used to be a major water source for the canal during the Yuan Dynasty (1271-1368).
The program also featured stories told by people in different countries about their own key waterways, in a way to give viewers a global perspective.
For example, an Egyptologist stood on the Suez Canal and introduced how the canal changed Port Said in Egypt, and shared the city's well-known destinations and travel tips.
Sitting in a gondola, the Venetian rowing boat, a local tour guide dressed in traditional clothing introduced the history of the Venice Grand Canal in Italy, and then visited a factory to explore how the traditional flat-bottomed boats were made.
In Muenster, Germany, which is dubbed "a city of bicycles", a band named Jenny and the Steady Go's performed the song The Road to Dortmund-Ems Canal while cycling along the canal.
"These colorful scenes were filmed in accordance with the local characteristics, aiming to help viewers to know about the canal culture in the seven countries," says Wang Hairu, deputy director of Beijing Overseas Cultural Exchanges Center which organized the festival.
"The Beijing-Hangzhou Grand Canal is not an isolated example. There are over 500 canals in about 50 countries all over the world. They have a shared destiny, thus making canal an important symbol in the world cultural communication," she says.
According to her, these canals are all great transformations of nature by human beings. The development of canals has boosted transportation, economy and culture, nurturing great civilizations over the years.
December 23, 2022

December 15, 2022

December 7, 2022
December 22, 2022