Chinese rescue teams set off for quake-hit Türkiye with rescue equipment, relief materials
Several rescue teams from China have arrived in or are headed for earthquake-hit areas in Türkiye to conduct international rescue missions. According to incomplete statistics, they include a rescue team sent by the Chinese government and several non-governmental rescue teams in China.
In response to a request by the Turkish government for overseas help, the Chinese government dispatched a search and rescue team which was mainly composed of personnel from the Beijing fire and rescue corps, the National Earthquake Response Support Service and the Emergency General Hospital. They have arrived in Türkiye along with 21 tonnes of rescue equipment and relief materials and four search and rescue dogs.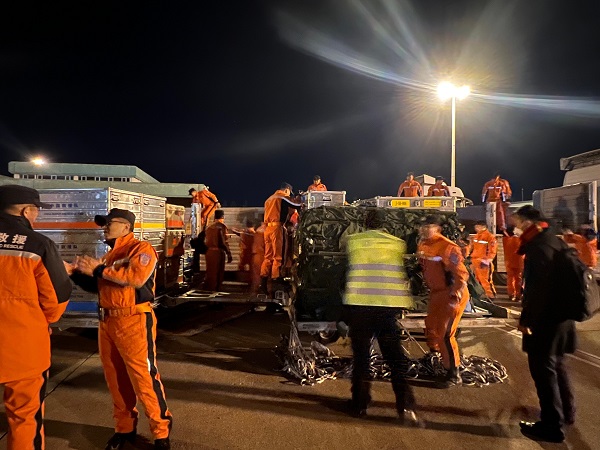 Chinese rescue team arrives at Adana Airport in Türkiye at 4:30 am local time, Feb. 8. (Photo courtesy of China's Ministry of Emergency Management)
A team of eight rescue experts of the Rescue Team of Ramunion, which is based in Hangzhou, capital city of east China's Zhejiang Province, has arrived in earthquake-stricken areas in Türkiye on Feb. 8. They will use advanced radar life detectors, demolition and rescue equipment, and a search and rescue dog for the mission.
Founded in 2008, Ramunion is a professional rescue team specializing in emergency response to disasters and accidents. Its members have participated in a total of 287 international and domestic rescue missions.
On Feb. 8, the first batch of 60 rescuers and two search and rescue dogs dispatched by the Blue Sky Rescue team set off for Türkiye. Founded in 2007, Blue Sky Rescue is a professional nongovernmental and independent emergency rescue team. Its members have taken part in international and domestic rescue missions.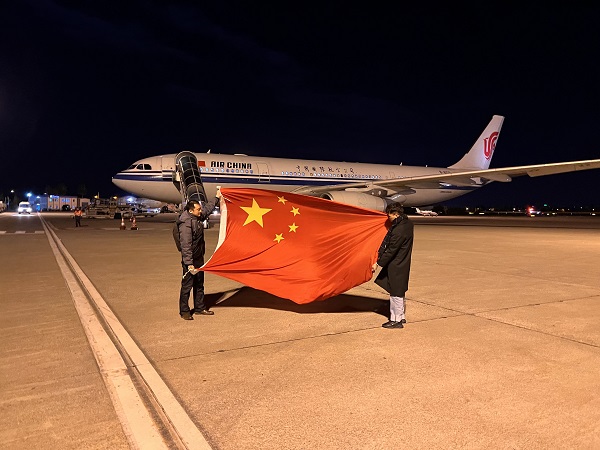 Chinese rescue team arrives at Adana Airport in Türkiye at 4:30 am local time, Feb. 8. (Photo courtesy of China's Ministry of Emergency Management)
The Shenzhen Rescue Volunteers Federation has decided to launch rescue operations in Türkiye and send an advance team to aid the rescue operation in the country. The rescue team is in contact with the Chinese Embassy in Türkiye, the Turkish Embassy in China and local overseas Chinese organizations and China-funded institutions in Türkiye to finalize their preparations for the operation.
The Chinese government has launched an emergency humanitarian assistance mechanism and will provide emergency aid to quake-hit Türkiye and Syria, said Deng Boqing, deputy head of the China International Development Cooperation Agency, on Feb. 7.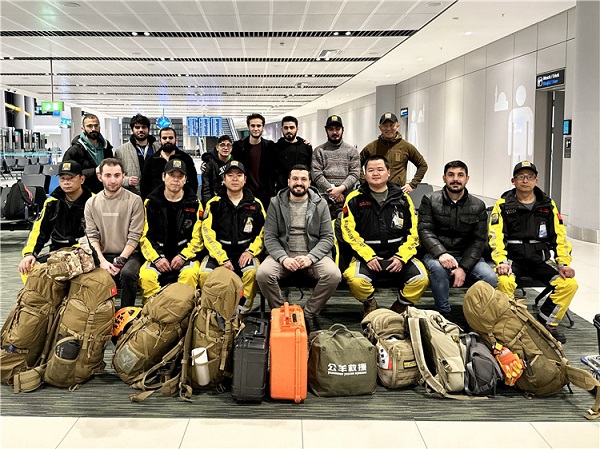 Members of the Ramunion rescue team from China, North America, Europe, and Türkiye gather at Istanbul International Airport, Türkiye. (Photo provided by Rescue Team of Ramunion)
China will provide the first batch of emergency aid worth 40 million yuan (about $5.89 million) to Türkiye, according to Deng, adding that China is coordinating efforts to provide relief supplies to Syria and speeding up the implementation of the ongoing food aid program.
More than 5,000 people were killed after strong earthquakes jolted parts of Türkiye and neighboring Syria early Monday.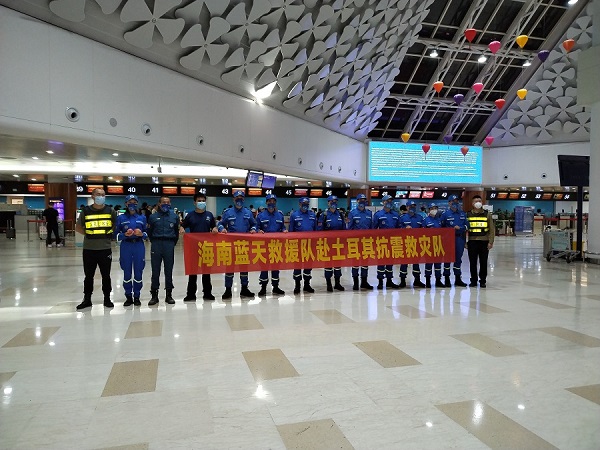 Photos shows members of Hainan Blue Sky Rescue Team at the Haikou Airport in South China's Hainan Province before setting off to Türkiye. (Photo provided by Hainan Blue Sky Rescue Team)
February 2, 2023

January 31, 2023