Chinese artist's plum blossom paintings leave strong aftertaste
Plum blossoms have always been cherished for their beauty, vitality and ability to endure the cold weather, especially by Chinese literati, poets and painters through the ages, including artist Chen Jialing. He brought 50 of his plum blossom-themed paintings with 50 poems featuring his unique calligraphy to Rongbaozhai, a famous painting and calligraphy shop in Beijing.
10:39
"Plum blossoms are the first of the flowers that start to bloom, indicating the beginning of spring. They are able to survive the cold, always a metaphor of good character. I find it a challenge to draw them," said Chen.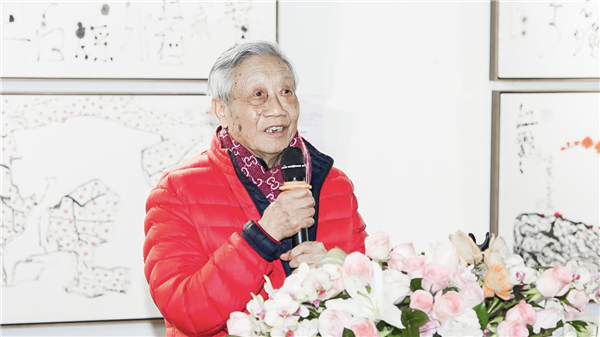 Artist Chen Jialing /Rongbaozhai
Born in 1937 in Hangzhou, Zhejiang, Chen had been instructed by famous artists like Pan Tianshou and Lu Yanshao as he embarked on his journey of learning about art. Nearly half a century ago, he made a name for himself with his lotus paintings, combining Chinese ink-and-wash painting skills with Western impressionism and abstract techniques. Now he is exhibiting a number of plum blossom paintings in Beijing, demonstrating the continuous development of traditional Chinese culture with his deft brushwork.

Details of a plum blossom painting by Chen Jialing /Rongbaozhai
Impressed by Chen's plum blossom paintings, Fan Cungang, Deputy General Manager of Rongbaozhai, shared his thoughts on the artist. "The structure of his calligraphy, the use of ink, the way he draws lines are very unique. The color of the ink he uses changes a lot, variously appearing thick, light, dry and wet. Sometimes the stokes are dry, sometimes moist, and we can also see some ink spots. These are all artistic techniques that the painter deliberately applies."

Details of a plum blossom painting by Chen Jialing /Rongbaozhai
Chen said that painting plum blossoms is, for him, a form of "self-cultivation." He also draws inspiration from his predecessors, especially Lu Yanshao, another fan of painting plum blossoms who focused more on their trunk and flowers, rather than the small branches.

Ancient poet Wang Anshi's "Plum Blossoms" written in the unique calligraphy of Chen Jialing /Rongbaozhai
Chen combined lines with ink blocks when painting plum blossoms. "Chinese lines are brush lines which are elastic. The tip, belly and root of the brush are all good for painting. Therefore, the changes of strokes are infinite," said Chen.
His paintings reflect his distinctive personality. Based on traditional Chinese ink painting, Chen has always been working to innovate. On the other hand, as a Chinese painter, he never stops delving into the traditions that he believes are fundamental to the nation's culture.
February 23, 2023

February 15, 2023

February 8, 2023
February 19, 2023