New season of Hangzhou Asian Games campus football invitational kicks off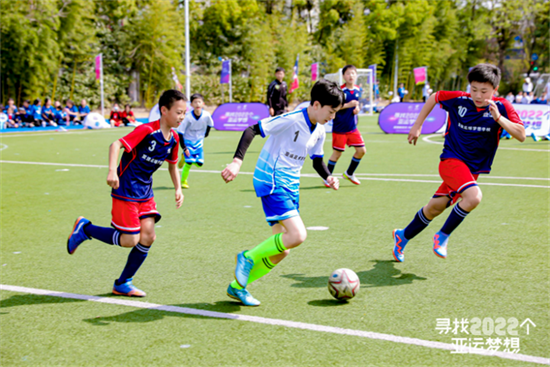 Young players compete in the new season of a campus football invitational in Hangzhou on March 15. [Photo/hangzhou.com.cn]
The new season of a football invitational titled Seeking 2,022 Football Dreams for the Hangzhou Asian Games kicked off in Hangzhou, Zhejiang province on March 15, with four local primary schools to compete to move onto the next round.
From March to June, the invitational will host 60 group matches across the province. Twenty primary and secondary school football teams from across the province will compete against each other, including four primary school girls' football teams.
Li Zheng, the U14 head coach of Zhejiang Women's Football Club, also brought her team to the opening match. In addition to providing on-site guidance for players, Li said that she wanted to see if there were seeded players qualifying for the Zhejiang provincial football team.
The invitational was part of a charity program initiated by the Hangzhou Asian Games Organizing Committee and a youth football charity to help high schoolers participate in professional football training and pursue their football dreams.
Chen Huan, head of the charity program, said that the campaign has collected over 200,000 Asian Games dreams worldwide, attracting nearly 700 million people's attention and participation.
China Telecom, a State-owned telecommunications corporation, has donated Football Dream Packages, including footballs and training equipment, to 100 primary and secondary schools in Zhejiang province since the invitational was launched half a year ago.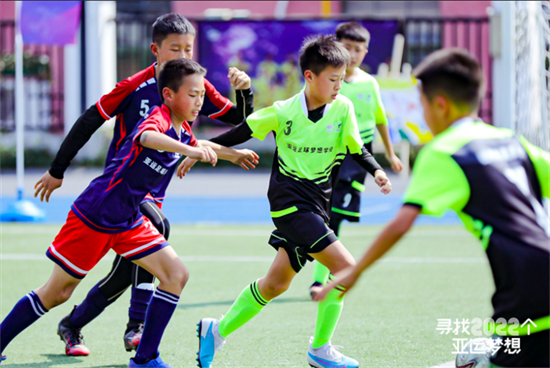 Young players compete in the new season of a campus football invitational in Hangzhou on March 15. [Photo/hangzhou.com.cn]
March 15, 2023

March 10, 2023
March 6, 2023