Chen wins gold at national diving championships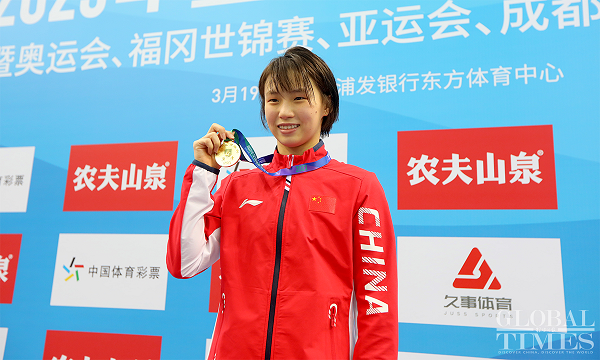 Photo: Chen Xia/GT

Cheers and applause fill the stadium as Chinese diver Chen Yuxi elegantly completes her last dive.
The 17-year-old jumps out of the pool, and bows in thanks to the spectators as the largest screen on the wall shows that her total score of the match is the highest among all the contestants.
Chen won the gold medal at the women's 10-meter platform diving final match on Tuesday. The match is regarded as one of highlights of the ongoing China Diving National Championships 2023 being held in Shanghai.
Chen was not very satisfied with her performance that day.
"Particularly in the last round, I had psychological fluctuations, and I didn't perform at my best," Chen told the Global Times after the event.
"Some problems I've had in training also occurred this time... I will continue to improve myself in future training."
Before joining China's national diving team in 2019, Chen, the Shanghai girl, had trained with the Shanghai diving team for years.
"Chen gave a very solid performance at the match, just like she always does," Xie Fuyan, the Shanghai diving team's manager, told the Global Times.
Chen's strongest competitor Quan Hongchan, a Tokyo Olympic champion, got silver.
Quan made a mistake in her fourth 207C dive, which she reportedly has trouble with. She didn't complete the same dive very well during Tuesday morning's pre-final, either.
Both Chen and Quan are the world's top female divers. Chen took the crown at the Tokyo Olympic women's synchronized 10-meter platform event, and the 2022 FINA World Championships women's 10-meter platform event.
It's hard to say who is the better one, said Zhou Jihong, manager of the ­Chinese diving team.
"They both are very good divers, and they both train very hard," Zhou said in a press release before the championships.
The championships serve as the qualifications for the Paris Olympic Games 2024, the Fukuoka World Aquatics Championships 2023, the Hangzhou Asian Games and the Chengdu World University Games.
March 21, 2023

March 15, 2023

March 10, 2023
March 6, 2023