Ding Liren, Carlsen to join new chess league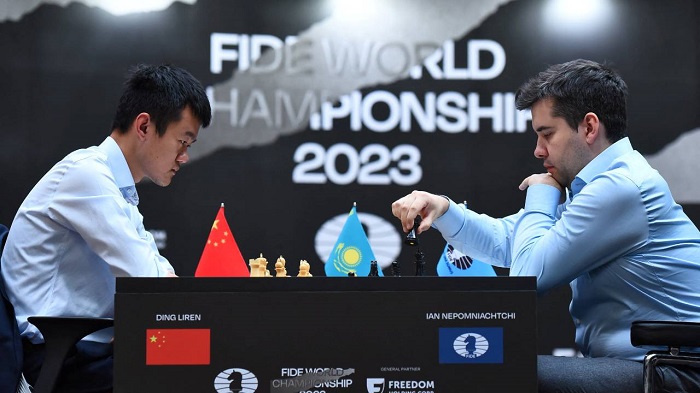 Russia's chess grandmaster Ian Nepomniachtchi (L) and China's chess grandmaster Ding Liren at the final of the 2023 World Chess Championship in Astana, Kazakhstan, April 30, 2023. [Photo by Vladislav Vodnev/Reuters]
China's reigning world champion Ding Liren and top-ranked Magnus Carlsen will participate in next month's inaugural franchise-based Global Chess League (GCL), organizers said on Tuesday.
The tournament will run from June 21 to July 2 in Dubai and feature six teams of six players each, including a minimum of two female players and an "icon" player per team.
The six teams will compete in a round-robin format and play 10 matches each, with the top two teams qualifying for the final.
Carlsen and Ding will join as two of six "icon" players, along with Indian grandmaster Viswanathan Anand and Poland's Jan-Krzysztof Duda. The final two names will be confirmed at a later date, organizers said.
Russian grandmaster Alexander Grischuk, France's Maxime Vachier-Lagrave, and Hou Yifan of China, a four-time women's world champion, will also participate in the tournament.
China's Ding, 30, became world champion in April after beating Ian Nepomniachtchi at the World Chess Championship. Ding took over the crown from Carlsen, after the 32-year-old Norwegian said last year he would not defend his title.
Ding will compete in individual and team events at the upcoming Asian Games later this year in Hangzhou, east China's Zhejiang Province, where he hopes to win the title.
"I will continue to work hard. My first goal is the Asian Games, and then to defend my title as the world champion."
May 23, 2023
May 21, 2023