4 medics who rescued a man receive lifetime free-visit to panda base in SW China's Sichuan Province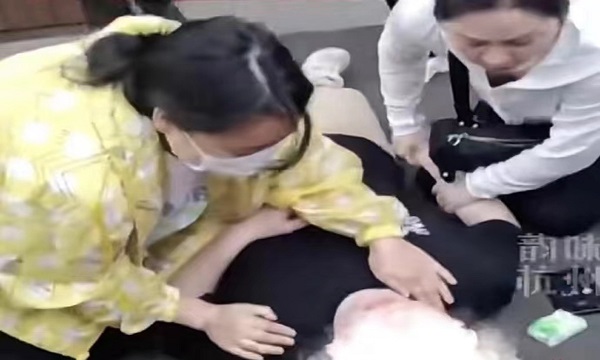 Four medical workers who gave first aid to a man at the Chengdu Research Base of Giant Panda Breeding in Southwest China's Sichuan Province have received a gift of "lifetime free visit" from the panda base. Photo: Chinanews
Four medical workers who gave first aid to a man at the Chengdu Research Base of Giant Panda Breeding in Southwest China's Sichuan Province have received a gift of "lifetime free-visit" from the panda base.
On May 18, a man fainted and fell to the ground while visiting the Chengdu Research Base of Giant Panda Breeding. According to the video taken by tourists at the scene, several tourists squatted next to the man to give first aid and repeatedly calling to him in an attempt to revive his consciousness.
One of the first responders, a woman surnamed Wang, said she was a doctor from Hangzhou, East China's Zhejiang Province, who was visiting the panda base with her colleagues. "As soon as we saw someone collapse, we went to check on the patient and wanted to provide some professional help in any way we could," she said.
"We applied compression for about 40 seconds until the patient woke up," Wang said, adding that saving lives is their duty as doctors, and they will continue to strengthen the study and training of first-aid to try to provide help to more people.
Due to the prompt treatment, the man soon regained consciousness and was taken to hospital. And four medical workers who had saved a life will be given access to free tours of the panda base for life.
May 23, 2023
May 21, 2023