Game Changers| Hangzhou athlete aspires to stand on the podium at Asian Para Games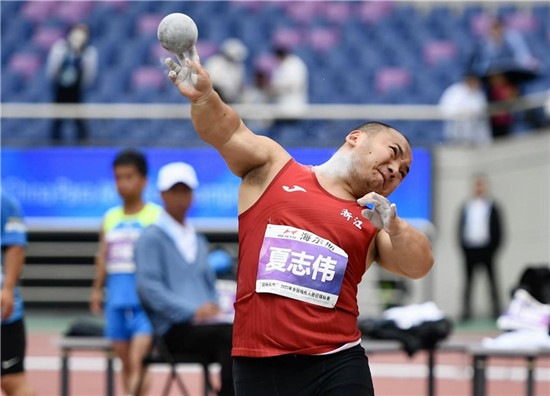 Xia Zhiwei. [Photo/hangzhou.com.cn]
Xia Zhiwei from Fuyang district, Hangzhou won the championship in the men's F41 shot put event with a throw of 11.12 meters at the "Exciting Hangzhou" 2023 National Disabled Athletics Championships on May 24.
"Thanks to sports, I have become optimistic, cheerful, and confident." This statement has long been Xia's pet phrase.
Due to genetic factors, Xia's stopped growing at 139 cm. He used to struggled with self-esteem and isolated himself from the outside world for a long time.
With the original mindset of "just looking for something to do," Xia started training in Hangzhou in July 2009. Through hard work and dedication, he grew into an outstanding athlete at an astonishing pace.
In the men's shot put F40 event at the Guangzhou Asian Para Games, he broke the Asian record with a throw of 10.59 m, surpassing the previous record of 9.52 m. He also won a silver medal in the men's F41 shot put event at the third Asian Para Games and a gold medal in the men's F41 shot put event at the 11th National Disabled Games.
Regarding his recent performance, Xia admitted that it fell short of his personal best of 12.33 m at the Rio Paralympic Games. However, he expressed satisfaction, considering his age and declining physical abilities.
When asked about the possibility of participating in the Hangzhou Asian Para Games, Xia confidently said, "I still have a lot of confidence. I won silver at the Jakarta Asian Para Games, and I hope to perform well at the Asian Para Games, which will be held in my hometown."
May 29, 2023

May 23, 2023
May 21, 2023