Cross-Border Trading Town
| ehangzhou.gov.cn | Updated: 2018-06-14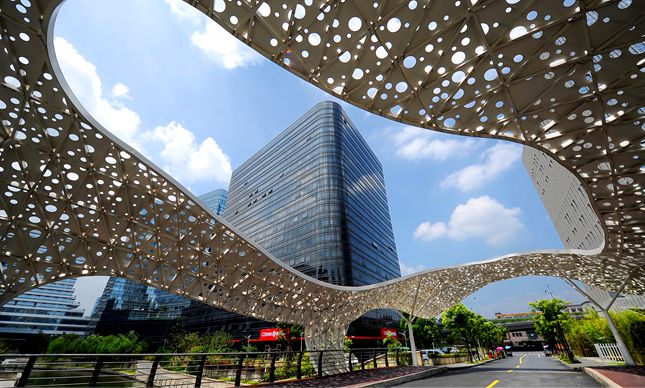 The Cross-Border Trading Town is a key project at the central business district in Xiacheng district, Hangzhou city. It is the only provincial characteristic town featuring cross-border e-commerce and was one of the 12 interview sites for foreign media during the G20 Hangzhou Summit.
Occupying some 2.9 square kilometers, the town has the Xintiandi Complex and China first Cross-border E-commerce Park as its center. It has an exhibition area of pilot zones for cross-border e-commerce and overseas shopping streets where people can buy products from 24 countries and regions, such as Europe, Australia and Hong Kong, an entrepreneurship park for foreign students studying in China, and a maker space. People can also relax at Seagoor Mall. Further projects such as Canadian-based Cirque du Soleil and Asia's biggest IMAX cinema are about to be completed.
The town is expected to be a demonstration area that integrates characteristics of entrepreneurship and innovation, cross-border e-commerce business, tourism, shopping and urban life, with the aim of promoting consumption and improving urban life experience.
Address: Cross of Feijiatang Road and Xinbei Street, Xiacheng District, Hangzhou City
Contact persons: Huang Yu
Tel: +86-0571-88357190, +86-13968026429