Hangzhou Intl Expo Center
| ehangzhou.gov.cn | Updated: 2018-06-14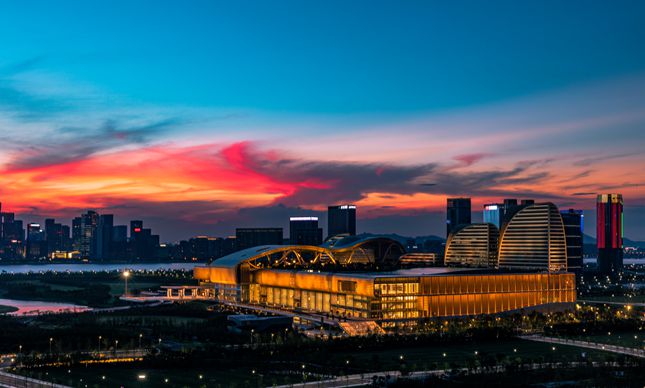 The Hangzhou International Expo Center, located in Qianjiang Century City, enjoys favorable geological location and convenient transportation. Decorated in a modern and simple style, the center features the cultural characteristics of Southern China.
The center, occupying some 19.7 hectares on the south bank of the Qiantang River, engages in a wide range of businesses, including meetings, exhibitions, catering, tourism, hotel accommodation, commerce and office space.
Managed and operated by Beijing North Star Company Limited, the center opened in 2016. As the main venue of the G20 Hangzhou Summit which was held in September, 2016 the center promoted its image with a professional operation philosophy, advanced facilities and qualified service.
As of July, 2017, the center has played host to 1,100 meetings and 24 exhibitions, the total display area surpassing 1.39 million square meters and receiving more than 950,000 visitors. The center is so popular that there are cooperation projects scheduled as far ahead as 2022.
Address: Benjing Avenue No 353, Qianjiang Century City, Xiaoshan District, Hangzhou
Contact persons: Tang Xue, Gao Ya'nan
Tel: +86-0571-82908888, +86-0571-82908888, +86-13588800690