Digital economy and new manufacturing plans spur new growth in Hangzhou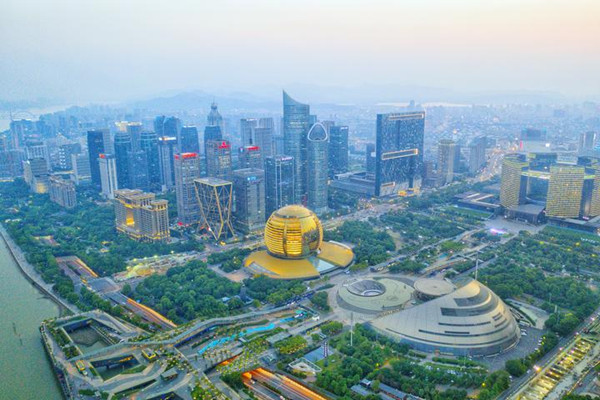 An aerial view of urban Hangzhou, capital of Zhejiang province [Photo/zj.zjol.com.cn]
Owing to Hangzhou's continuous efforts to develop its digital economy and boost its new manufacturing plan, many companies in the city suffered relatively minor losses due to COVID-19, and some have even found new business opportunities during the outbreak, an official said.
Hangzhou's economy has only become more resilient in face of the epidemic.
You Qingtao, a senior product expert at Zhejiang Dahua Technology Co Ltd, said that he never thought the company's thermal imaging system previously used in cultural relic preservation and electric thermometry would be of use in fighting the virus.
During the Spring Festival, researchers at Dahua Technology worked around the clock to develop the ultra-high precision human body thermal imaging system, which was subsequently applied in Hangzhou subways and Shanghai Pudong airport.
Currently, around 120 million Chinese students from 140,000 schools are using the remote online learning platform to continue with their schooling.
Hangzhou Anheng Info & Tech Co Ltd opened the Anheng Security Shield for free in February, which provides third-party encryption solutions for companies. During the epidemic, the number of users of the software soared to 1 million.
In 2019, the added value of the key digital economy industries was 379.5 billion yuan ($53.68 billion), accounting for 61 percent of the total in Zhejiang province, a year-on-year increase of 15.1 percent.
Last September, Hangzhou issued a new manufacturing plan, aiming to build the city into a globally influential city with a strong manufacturing industry.
In the face of the epidemic, new manufacturing companies in Hangzhou, empowered by digital technology, have shown stronger resilience to risk.
The intelligent factory at Zhejiang Zhaofeng Mechanical and Electronic Co Ltd is now operating at full capacity, after going from 65 percent capacity to 85 percent within a week.
Kong Aixiang, chairman of Zhejiang Zhaofeng Mechanical and Electronic Co Ltd, said that this was only possible due to the use of digital technology.
In 2019, Hangzhou carried out 139 intelligent manufacturing projects and 1,093 industrial internet of things projects. Nearly 85 percent of all companies above a designated scale realized digitalization, 15 percentage points higher than the annual target.
April 27, 2021

April 23, 2021

April 19, 2021
March 11, 2021