What to expect from International Day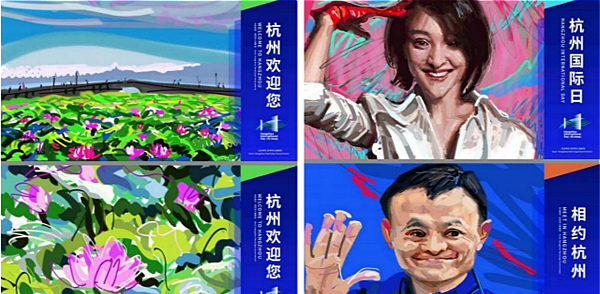 Posters for Hangzhou International Day celebrations, which will last from Sept 5 to 17 [Photo/hangzhou.gov.cn]
Tomorrow marks Hangzhou's third International Day, and a variety of activities will be held until Sept 17 to celebrate the city's achievements in global cooperation and transformation into an international metropolis.
The opening ceremony on Sept 5 will include addresses from local authorities and foreign ambassadors, video meetings with international partner cities, the signing of the 24th China International Software Expo, as well as a number of promotional videos and shows.
The International Day Exhibition will kick off that same day. It will be divided into five sections for Hangzhou's cooperation with partner cities, the city's five new holidays (including Liangzhu Day and West Lake Day) and world heritage sites, the 30th anniversary of the Hangzhou High-Tech Zone, the electronic World Trade Platform (eWTP) industries, and an exhibition of paintings.
Other major celebrations will include the Digital Hangzhou Exhibition Cooperation Conference on Sept 2, an Asian Games-themed fitness event on Sept 5, a blind date in celebration of the 2020 Sino-Italian Culture Week of Romance, and an agriculture festival in the county-level city of Jiande.
Hangzhou designated Sept 5 as International Day in April 2018 to mark the anniversary of the closing of the 2016 G20 Hangzhou Summit. The new holiday has since become an annual event and has helped raise the city's international profile.
Zhejiang actress Zhou Xun, the first Chinese goodwill ambassador for the United Nations Development Programme, will join attendees from around 30 countries to tell stories about Hangzhou and the world.
October 12, 2020

September 16, 2020
October 13, 2020