Hangzhou Amanfayun Hotel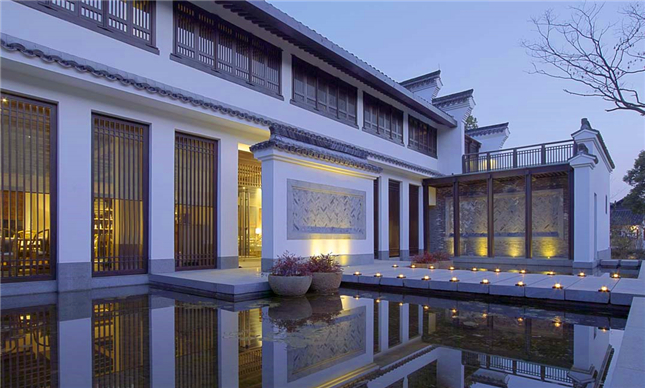 Located to the west of West Lake and surrounded by Buddhist temples like Tianzhu, Lingyin and Yongfu and an ancient village, Amanfayun is about 20 minutes' drive from downtown Hangzhou.
The hotel covers about 14 hectares of tea plantations and 47 residences. It was originally built as folk houses in the Tang Dynasty (618-907).
A narrow lane through bamboo groves leads to the reception desk of the hotel, and then a quiet path carries on to Fayun Road, the 600-meter main road of the resort hotel.
Fayun Road links all the rooms, suites, villas, restaurants, tea houses, stores and a SPA recreation center. The residences, dating back more than 100 years, have been renovated with traditional techniques and materials, such as bricks, tiles and slates.
There is a stream running from south to north on the east side of the hotel. It was once a refreshing place to rest for residents in the ancient village after hard work in the tea garden.
Address: 22 Fayun Lane, West Lake Street, Xihu (West Lake) district, Hangzhou (near Meiling North Road)
Tel: +86-571-87329999
August 4, 2023

July 27, 2023