Tonglu to offer 55m yuan in coupons to boost tourism industry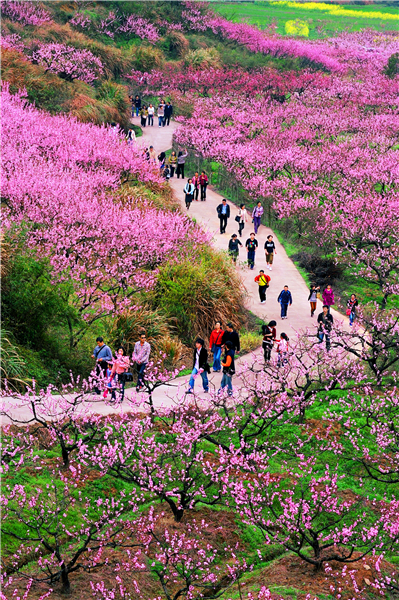 Flowers burst into bloom in Tonglu county, Hangzhou, East China's Zhejiang province. [Photo provided to chinadaily.com.cn]
Tonglu county, East China's Zhejiang province, recently announced a promotion campaign in which it will issue coupons worth more than 55 million yuan ($7.8 million) online and offline to foster its tourism and consumption.
From May 1 to July 31 tourists can get the vouchers online and offline, according to the launch ceremony.
During the campaign, the county will partner with major domestic online travel agents to issue coupons worth 20 million yuan for ticket discounts in designated attractions. In terms of offline promotion, it will issue 30 million vouchers to nationwide travel wholesaler partners good for ticket discounts apart from the group ticket rate.
Some catering businesses and hotels are participating in the campaign as well. Jiuyuan Hotel declared that it will offer coupons worth three million yuan to introduce tourists to local fish specialities. And Haibo Resort Hotel will offer coupons worth two million yuan for half-priced accommodation.
Several industry insiders were invited and presented their views and opinions. Chen Wenyao, general manager of Zhejiang C&T Yuancheng Global Communication Co Ltd, believed the campaign will inject new strength into Tonglu's traditional tourism. Yu Bin, deputy secretary-general of the Shanghai cultural and creative industry resource alliance, put forward the view that as regards brand promotion Tonglu should focus on the development of its cultural life scene and overall image.