Westlake University's Yungu campus on the way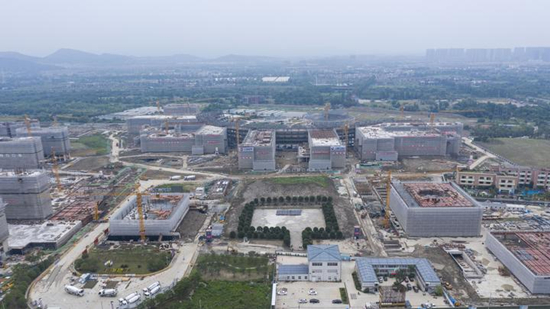 The construction site of the Yungu campus of Westlake University [Photo/zjnews.zjol.com.cn]
The first phase of construction on Westlake University's Yungu campus, located in Xihu district, Hangzhou, Zhejiang province, was completed on June 30.
On site were the management team of Westlake University, government officials from Xihu district, and the university's sponsors, faculty, and students.
Construction on the Yungu campus started on April 3, 2018, and it has a planned land area of roughly 100 hectares. The first phase of the campus, consisting of 36 buildings, has a total floor space of 456,000 square meters and accommodates laboratories, classrooms, offices, auditoriums, service centers, canteens, and apartments.
"The Yungu campus has been turned from a conceptual design into a real thing over the past two years. The Academic Ring, the campus's most iconic building focusing on teaching and scientific research, has now taken shape," said Shi Yigong, president of Westlake University, during a speech at the site. He also thanked local authorities for their support.
Yungu campus is expected to open at the end of 2021. Most of the university's operations, which are currently based at its Yunqi campus, will move to the new campus.
The second phase of construction on Yungu campus will focus on sports grounds and will commence in the coming months. The third-phase will start next year.
Westlake University, founded in Hangzhou in 2018, is China's first research-oriented private university and aspires to become one of the world's top research institutes.
To date, the university has enrolled 124 postdocs and 334 doctorate students. It is expected to have around 5,000 students, including 3,000 postgraduates and 2,000 undergraduates, by 2026.
August 4, 2023

July 27, 2023