Asian Games promoted on Hubin Pedestrian Road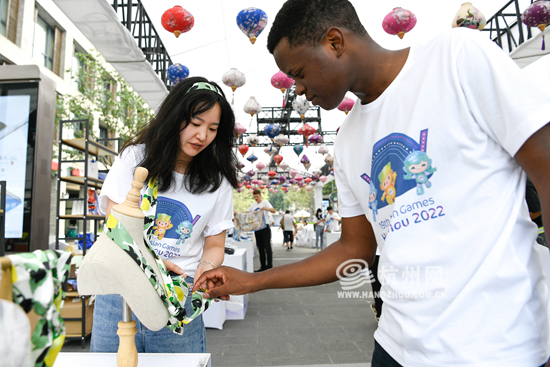 An expat in an Asian Games-themed T-Shirt shops on Hubin Pedestrian Road in Hangzhou, capital of East China's Zhejiang province. [Photo/hangzhou.com.cn]
An exhibition of Asian Games products kicked off on Hubin Pedestrian Road in Shangcheng district, Hangzhou on July 29.
Twelve franchised manufacturers set up booths by the roadside to showcase their unique designs celebrating Hangzhou and the 2022 Asian Games.
Among the exhibitors are time-honored local brands such as Paradise Umbrella Group and traditional Chinese silk manufacturer Wensli Group.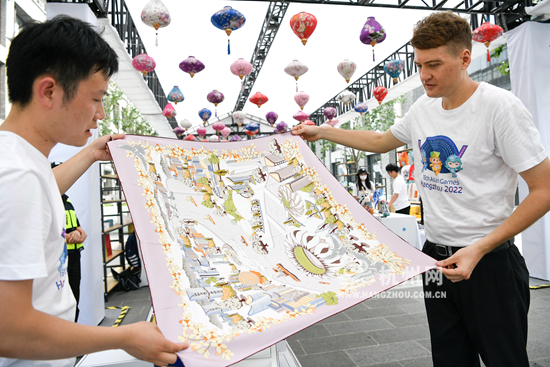 An expat helps unfold a silk tapestry. [Photo/hangzhou.com.cn]
Live-streamers have been authorized by the Asian Games organizing committee to hold promotional shows for the products on display and stir up enthusiasm for the Asian Games.
On July 22, Hubin Pedestrian Road was made a national example for its attractive layout and successful business model.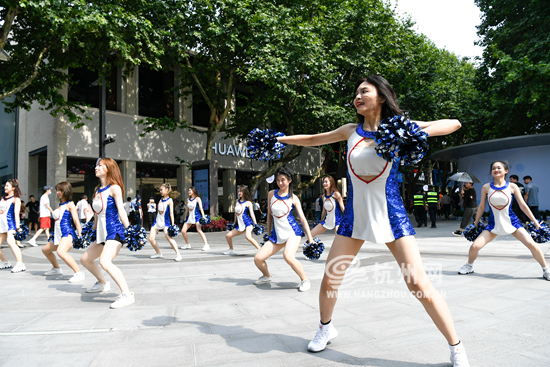 Cheerleaders perform on Hubin Pedestrian Road on July 29. [Photo/hangzhou.com.cn]
The business complex currently covers an area of 41,000 square meters and houses over 1,600 famous Chinese and foreign brands. Both pedestrian and commercial areas boast access to fast 5G networks and mobile payment services.
Hubin Pedestrian Road is designed to be a window into Hangzhou. As the 2022 Asian Games approach, the road has hosted a fan meeting for Madrid coach Zinedine Zidane and Minnesota's Derrick Rose, increasing sales of sports brands by 26 percent, according to local authorities.
August 4, 2023

July 27, 2023