Poem appreciation: Watching Qiantang River Tide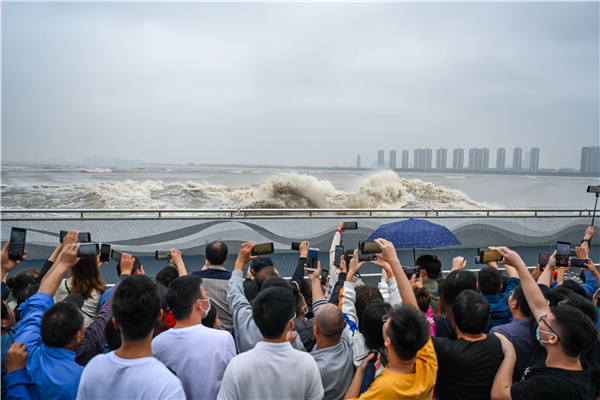 Every year around the Mid-Autumn Festival, when the Qiantang River's tidal bore is at its maximum force, visitors gather to take a glimpse of the power of nature. [Photo provided to China Daily]
银龙翻江截江入,万水争飞一江急。
云雷风霆为先驱,潮头耸并青山立。
百里之外光荧荧,若断若续最有情。
崩轰喧豗倏已过,万马飞渡萧山城。
钱塘岸高石五丈,古松大栎盘森爽。
翠楼朱槛冲波翻,羽旗金甲云涛上。
伍胥文种两将军,指挥鲲鳄惊鼍蟒。
杭州小民不敢射,荡猪击彘来相享。
我辈平生多郁塞,豪情逸气新搔痒。
风定月高潮渐平,老鱼夜哭蛟宫荡。
The poem was written by Zheng Banqiao in 1932 as he watched the Qiangtang River tidal bore in Hangzhou.
Zheng compared the tide to a roaring dragon. He watched the tip of the tide standing side by side with surrounding mountains and also visualized ornamented buildings and shining armors from the rolling waves
He mentioned that local residents sacrificed pigs to the god of rivers hoping that this would calm the waves.
August 4, 2023

July 27, 2023