Hangzhou Asian Games historic and cultural experience centers: Archaeological Ruins of Liangzhu City
Editor's Note: The Hangzhou culture, radio, film and tourism bureau has unveiled a list of 50 experience centers that best bring out the essence of the 19th Asian Games as well as the unique charm of Hangzhou. The centers focus on history and culture, digital economy, intelligent manufacturing, intangible cultural heritage, sports and health.
Archaeological Ruins of Liangzhu City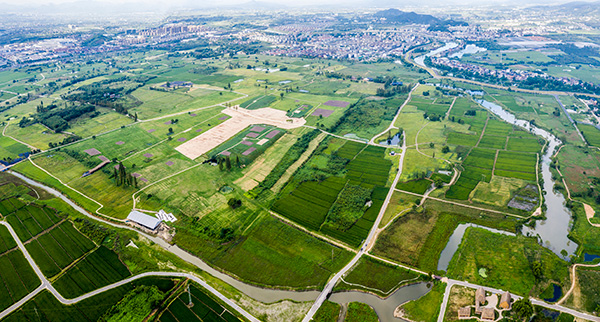 A bird view of the Archaeological Ruins of Liangzhu City. [Photo by Jiang Yangbo/For China Daily]
The Archaeological Ruins of Liangzhu City in Hangzhou, Zhejiang province, which date back 5,300 years, were inscribed onto the UNESCO World Heritage list on at the 43rd session of the World Heritage Committee in Baku, Azerbaijan, in 2019.
The ruins, whose core area covers 14.3 square kilometers in the northwest of Hangzhou, is considered an important representation of early urban civilization, with rice-cultivating agriculture as the economic foundation.
The heritage site includes city ruins with palace and altar remains, 11 early-stage dams, and high-level cemetery sites. The Neolithic civilization was thought to last about 1,000 years until 4,300 years ago, according to archaeologists' research.
The site is also known for its abundance of ceremonial jade, which shows a complicated ritual system and indicates a realm with a combined authority of deity and kingship.
Walls of the ruins were found in 2007, and its surrounding water conservancy system was discovered in 2015.
Address: Pingyao town, Yuhang district
Tel: +86 0571-85855300
August 4, 2023

July 27, 2023