Hangzhou forms world cultural heritage delegation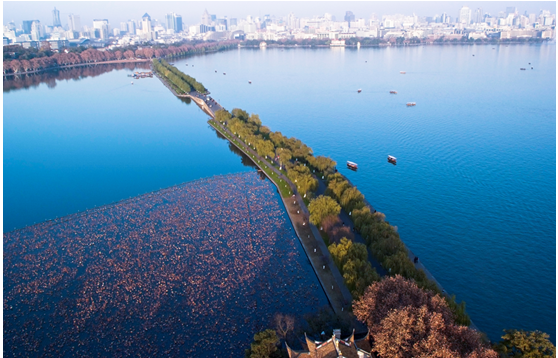 A bird's-eye view of the Yanggong Causeway on West Lake, a tree-lined lake bank across the Su Causeway. [Photo/hangzhou.com.cn]
Hangzhou, capital of East China's Zhejiang province, formed a delegation of 100 local residents on May 5 to "escort" the city's world cultural heritage items, local media outlets reported.

The delegates include college students, tour guides, commentators, and more.
They will participate in a final audition in the near future, taking cultural quizzes and offering new interpretations of Hangzhou's world cultural heritage items.
A total of 15 winners will be invited to form a special delegation, which will have the opportunity to take part in the filming of a series of cultural explorative videos on West Lake, the Grand Canal and the Archaeological Ruins of Liangzhu City.
Hangzhou has also prepared a variety of cultural creative products to encourage the participation of local residents, including patterned medical masks offered by the Hangzhou Seawall Site Museum, postcards themed on the Grand Canal, silk folding fans featuring the Gongchen Bridge, or the southern-most section of the Grand Canal, and key rings featuring symbols of Liangzhu Culture.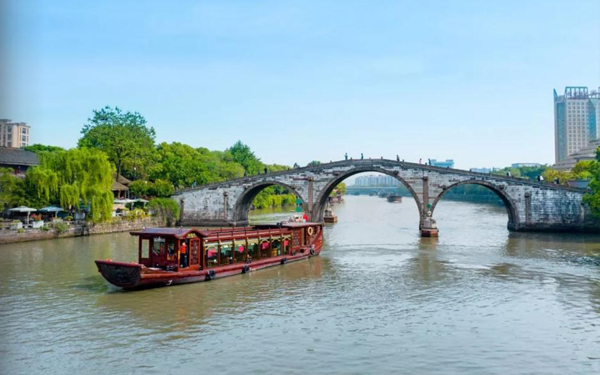 A cruise ship travels under the Gongchen Bridge, a famous bridge on the Beijing-Hangzhou Grand Canal that was built during the late Ming Dynasty (1368-1644). [Photo provided to ehangzhou.gov.cn]
August 4, 2023

July 27, 2023