Bronze art master brings new vitality to ancient craft
Editor's note: Bronze holds a special meaning in Chinese culture. The Bronze Age, starting around 1700 BC, had a profound impact on the development of civilization in the nation. In our special four-part series, we will follow one of China's most well-known bronze art masters, Zhu Bingren. His innovative ideas have helped to bring new vitality to this ancient craft. In the first episode, we go back to the beginning of his journey, to see how his family tradition of making bronzeware has influenced his artistic works.
Hangzhou, the capital of Zhejiang Province, boasts the most bronze architecture in China. People can board a traditional cruise ship on the West Lake or view the exquisite decorations at Lingyin Temple. And the man behind all these bronze wonders is none other than veteran artisan Zhu Bingren.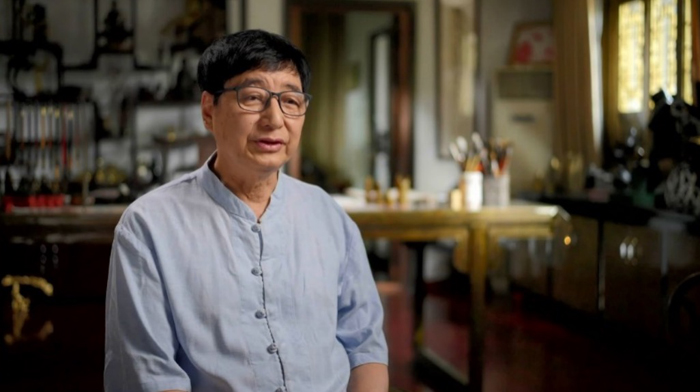 This screenshot shows Zhu Bingren, one of China's most famous bronze art masters, during an interview with CGTN. /CGTN
Zhu was born in Zhejiang's ShaoxingCity to a family of artisans who have been practicing the bronze craft for over a century. But the Zhu family was originally known for its literary traditions. In fact, Zhu Yurun, one of Zhu Bingren's ancestors, was a famous regional calligrapher.
In 1875, brothers Zhu Qingrun and Zhu Yuxiang started their own workshop, selling bronzeware utensils.
At the time, the move drew a certain amount of derision. But Zhu Bingren says the literary tradition is far from lost; rather, it is embedded in their bronzeware making.
In Chinese culture, bronzeware was often regarded as the vessels of kings, signifying the mystery, solemnity and majesty of the imperial court, royal power and order.
We can still get a glimpse of this with works like the Sword of King Goujian of Yue from the Spring and Autumn Period, and the chime bells from the tomb of Marquis Yi of Zeng from the Warring States Period.
Even after iron emerged as the material of choice for weapons and utensils, bronzeware was still greatly valued and used.
Zhu Bingren believes that is why his ancestors started the workshop and subsequent generations carried on and improved the craft.
Now he hopes to take this a step further with his own artistic vision.
In 1995, he broke new ground by creating the first bronze mural of Guanyin, the goddess of mercy. He later extended the use of bronze to calligraphy, harking back to his family's original literary traditions.
For Zhu, the year 1998 was extremely productive.
Combining bronze craft with his unique understanding of calligraphy, he transferred the flow of ink on paper to gleaming solid bronze, winning critical acclaim from the art community. As a result, the family brand shone more brightly than ever.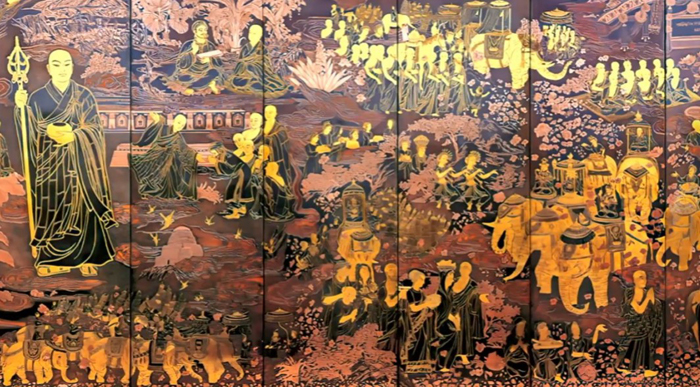 This screenshot shows one of Zhu Bingren's artworks. /CGTN
The next year, he created an epic bronze mural featuring the Tang Monk Xuanzang's Journey to the West, for The Big Wild Goose Pagoda in Xi'an, capital of northwest China's Shaanxi Province.
Zhu experimented with using different percentages of copper. The various levels of oxidation enabled him to "paint" different colors and layers, marking a new step for copper painting.
He considers copper to be a material with infinite possibilities, and one that is solid enough to stand the test of time. He has since taken his knowledge and artistic vision to restoring a masterpiece along the West Lake in Hangzhou.
The Leifeng Pagoda was first built in 976 AD. In 1924, the pagoda collapsed after years of repeated lightning strikes and war damage.
In the 2000s, restoration work officially began and Zhu was invited to be a part of the team. He saw more than the original brick and wooden structure. By using copper, he wanted the restored Leifeng Pagoda to not just inspire, but endure.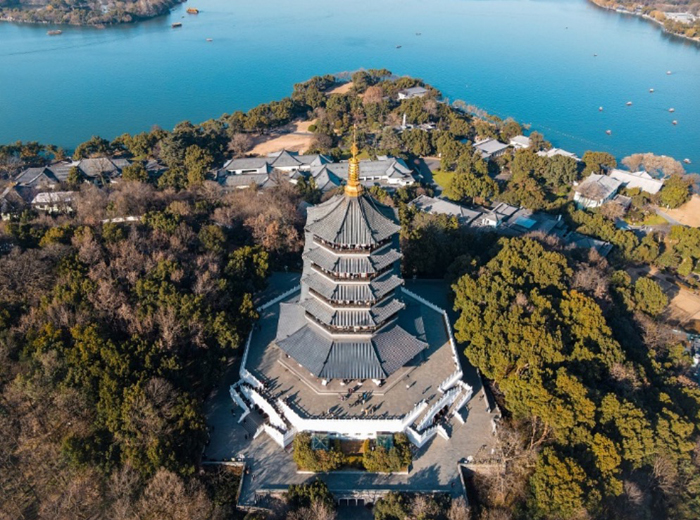 The Leifeng Pagoda is located near the West Lake in the city of Hangzhou, east China's Zhejiang Province. /CFP
After extensive research digging through old archives and numerous trials and errors, Zhu was able to realize his vision. His colored copper sculpting technique had never been applied in the construction and engineering field before. Experts came to him with many questions.
However Zhu refused to back down. By citing past examples of the use of bronze art in traditional structures, he was finally able to convince the team. And the result was no less than stunning.
Zhu went on to create bronze architectural wonders in the following years. He restored other ancient structures, including the Golden Summit on Emei Mountain in Sichuan and Shanghai's landmark Jing'an Temple.
For Zhu, bronze can take any shape and be presented in any color he can imagine. With his innovative vision and skillful techniques, the wonders of the Bronze Age have been resurrected and updated to fit the modern era.
August 4, 2023

July 27, 2023