Asian Games stadium to host national gymnastics events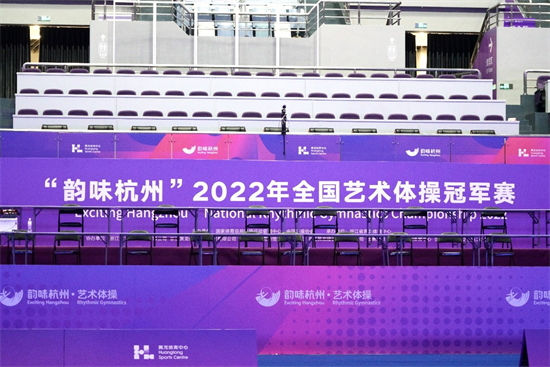 The 2022 National Rhythmic Gymnastics Championship is held at the Huanglong Sports Center in Hangzhou, capital of East China's Zhejiang province, from Aug 20 to 27. [Photo/Hangzhou Daily]
The Huanglong Sports Center, a stadium for the 2022 Hangzhou Asian Games, will be hosting three national gymnastics events in the coming weeks, according to an announcement made at a news briefing held at the center on Aug 17.
The events are the National Rhythmic Gymnastics Championship from Aug 20 to 27, the National Gymnastics Tournament from Aug 30 to Sept 10, and the National Trampoline Championship Sept 14 to Sept 19.
Nearly 150 athletes, represented by Zhao Yating, the runner-up of rhythmic gymnastics individual all-round event at the Asian Games Jakarta 2018, will be competing at the National Rhythmic Gymnastics Championship.
Several prominent gymnasts including Liu Yang, the fly rings champion of the Tokyo Olympics, and Zou Jingyuan, the parallel bars gold medalist of the Tokyo Olympics, will take part in the National Gymnastics Tournament.
According to Shen Bin, director of the Huanglong Sports Center, spectators will only need to pay 10 yuan ($1.47) to 20 yuan to watch all stages of the competition, except for the final, during which tickets will be priced between 30 yuan and 50 yuan.
During Asian Games Hangzhou, which has been postponed to September 2023, the Huanglong Sports Center will host the soccer, gymnastics and water polo competitions.
August 4, 2023

July 27, 2023